Not all the heroes with superpowers are on the big screen in Marvel's "Avengers: Age of Ultron," the year's most anticipated movie that opened in theaters this month. Some are behind the screen.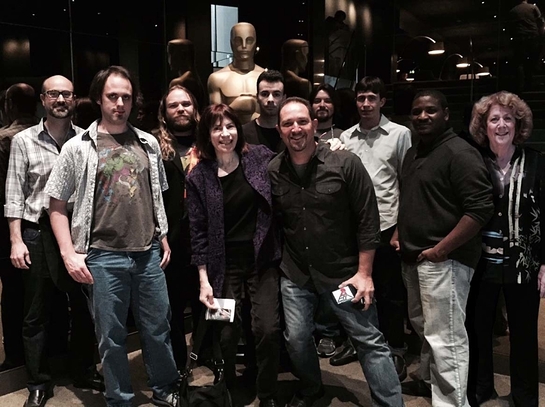 Earlier at the cast and crew screening held at the Academy of Motion Picture Arts and Sciences, Los Angeles, four young adults with autism from Exceptional Minds Studio were singled out by Marvel Studios' Executive VP of Visual Effects and Post Production Victoria Alonso for their work on the film.
"It was the first time that any of our young artists were recognized publicly on behalf of Exceptional Minds," commented Susie Zwerman, Executive Producer and Job Developer for Exceptional Minds. "It was a wonderful moment of industry recognition and we are so proud to be a part of this amazing film."
The four completed tracker-marker cleanup as well as the end title credits for the film, proving once again that what individuals with autism might lack in social skills, they make up for in visual artistry, focus, and attention to detail – or what some call the superpowers of autism.
"It's not just the big hero shots that matter; it's absolutely every single little detail which creates the whole aesthetic, the whole story. And the work (they've) done has helped to build that," said Marvel Studio's visual effects supervisor Christopher Townsend.
"I hope you are as proud of their work up on the screen as we are," he added, referring to the visual effects team including Patrick Brady, Lloyd Hackl, Eli Katz and Christopher Chapman.
The four are 2014 graduates of Exceptional Minds vocational school for young adults with autism, which is co-located with Exceptional Minds Studio in Sherman Oaks, California.
Exceptional Minds is the only school and working studio for young adults on the spectrum pursuing careers in visual effects and related fields. The school was started in 2011 to help these young men and women transition from high school into meaningful careers through accredited instruction and professional work experience.
All in their early to mid-20s and on the spectrum, three of the four artists completed tracking-marker removal for Marvel Studios, the production company for "Avengers: Age of Ultron." The fourth, Christopher Chapman, along with the help of Exceptional Minds staff Josh Dagg and freelance VFX Title Supervisor William Lebeda, completed a huge amount of cast and crew credits in a 7.5 minute end-credit crawl for the movie.
"This title project was massive in scope and complexity with dozens of revisions that had to be addressed quickly and accurately. But this is what our team does naturally… extreme attention to detail is first nature to them," said Craig Seitz, Exceptional Minds Head of Production.
Exceptional Minds is known for its close working relationship with the visual effects industry.
Marvel's "Avengers: Age of Ultron" is the latest in a growing list of visual effects projects by Exceptional Minds students and graduates, who have worked on more than a dozen projects, including films "Dawn of the Planet of the Apes" and "American Hustle."
"They are all huge fans of Marvel and cannot wait to put a poster from Marvel's 'Avengers: Age of Ultron' on our studio wall," said Zwerman.
The cast and crew screening was held the evening of April 28 at the Academy of Motion Picture Arts and Sciences, Los Angeles. The movie opened in U.S. theaters May 1.
Marvel's "Avengers: Age of Ultron" stars Robert Downey Jr, who returns as Iron Man, along with Chris Hemsworth as Thor, Mark Ruffalo as Hulk and Chris Evans as Captain America. Together with Scarlett Johansson as Black Widow and Jeremy Renner as Hawkeye, and with the additional support of Don Cheadle as James Rhodes/War Machine, Cobie Smulders as Agent Maria Hill, Stellan Skarsgard as Erik Selvig and Samuel L. Jackson as Nick Fury, the team must reassemble to defeat James Spader as Ultron, a terrifying technological villain hell-bent on human extinction.
Find out more about Exceptional Minds here.
Source: PR Newswire