By Misty Schwartz on
Former NFL star Jarrod Bunch has appeared in a number of films – such as Django Unchained, Rizzoli & Isles, and The Forgotten – and recently took time out of his busy schedule to talk to LookToTheStars.org about his charity work.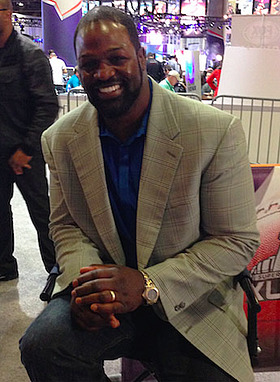 Tell us more about the charities you work with?
I do a lot of speaking and training at high schools here in the LA area for the Just Keep Livin Foundation. The foundation was started by Matthew McConaughey. It's a program geared towards high schools, giving students opportunities to see how positive thinking and support can lead to positive outcomes. It was an easy transition from all the work I did for the Make-A-Wish Foundation, when I was still playing in the NFL.
How or why did you select to support the charities you currently work with?
I worked with Matthew on the movie "Two for the Money," so when I read that he was having events with current players to raise money for the foundation, I called up the foundation and asked if they wanted retired players.
What is the most annoying thing about people that don't help charities and why?
People have their reasons for helping and for not helping. I'm more annoyed with places that call themselves a "charity foundation" and they are the only ones receiving a benefit.
And how important do you think it is for celebrities to get involved in charity?
I think it's important for each celebrity to follow their heart. Charity work is not for everyone… Participating in a charity event with a "DIVA", is not a good experience for anyone!
What plans do you have to make an impact on society this year?
I'm trying to get a partnership with the National Football Players Association and Just Keep Livin so that the celebrities that wish to participate with the high schools who have the program can be participants in the year round program.