World renowned artists Lady Gaga and Tony Bennett performed this week in the stunning setting of the Royal Albert Hall in support of WellChild.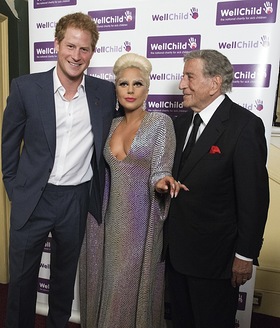 Attending the evening was also WellChild's Royal Patron Prince Harry who met with the stars of the show before the concert began.
The evening was a fantastic success with over £100 thousand being raised to support seriously ill children and their families throughout the UK.
After Prince Harry was introduced to Lady Gaga and Tony Bennett he was invited to meet some of the WellChild Children's Nurses and some young people who they help care for, before taking his seat to enjoy the show.
Colin Dyer, Chief Executive for WellChild said; "We are so pleased that such a fantastic amount has been raised for WellChild this evening. Everyone has been so generous with their donations and there are many people that we would like to thank helping us be part of such an iconic event. Our special thanks go out to Lady Gaga and Tony Bennett for their involvement and Prince Harry for his continued support to WellChild and the work we do for children and families."
Source: WellChild