Julia's House families became the guests of Sting and Trudie Styler after the couple hosted an event for them in the grounds of their Wiltshire home earlier this month.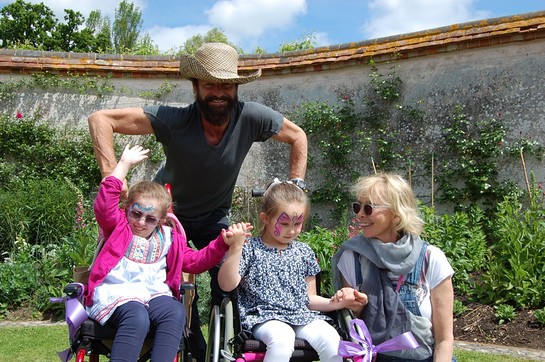 More than 170 of the mums, dads and children supported by the Dorset and Wiltshire Children's Hospices enjoyed a wonderfully relaxing day in the beautiful gardens near Amesbury.
Activities included tree-climbing, a wheelchair-friendly zip wire, crafts, music, tennis, games, complementary therapies and lunch in a marquee on the croquet lawn.
Trudie and Sting popped up throughout the day, mingling, chatting and posing for pictures with families. One of the high points for the children was when Trudie brought out some of her pets including Irish wolfhound puppies and a Shetland pony.
Trudie offered to host the family event after finding out about Julia's House at a fundraising clay pigeon shooting party organised by the charity's patron Guy Ritchie last year.
As they left, parents wrote thank you notes for Sting and Trudie which were later turned into a booklet and sent to the couple. Among the messages were:
"You made us all feel so welcome and we felt very touched to be part of it all"; "the effort, care and love that went into organising such a beautiful day was overwhelming. Family days like these are very rare and we cherish every memory"; "it means so much to us to have days of happiness like these"; "an amazing family day to treasure for always".
Julia's House plans to build a children's hospice in central Wiltshire within the next couple of years. This will enable the charity to expand its current small south Wiltshire home-based respite care to the rest of the county.