His Royal Highness, The Prince of Wales over the weekend attended the Royal Salute Coronation Cup – the UK's most prestigious international polo match – in aid of the Polo Charities Trust.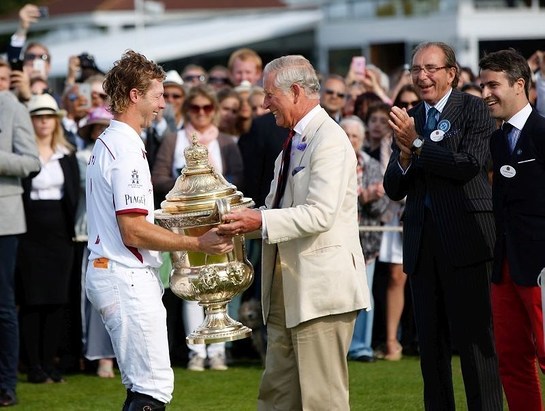 After a hard fought match featuring the sport's top players, His Royal Highness presented prizes for England after beating South America on The Queen's Ground. England's Max Charlton was also named Most Valuable Player, whilst Silver Lining received the Best Playing Pony prize.
A select group of celebrities, polo aficionados and international guests such as Natalie Coyle, Henry Conway, Alison Jackson and Alistair Guy joined temporal artist Marcos Lutyens in Royal Salute's Secret Garden, curated by the award winning gardener Stephen Woodhams, for a picnic designed to reverse the flow of time – dining amongst flowers recreating the floral displays at HRH Queen Elizabeth II's 1953 coronation handpicked by acclaimed Chelsea Flower Show garden designer Stephen Woodhams, to celebrate the British love affair with horticulture.
Guests at the Royal Salute Secret Garden enjoyed lunch from British born artist Lutyens' temporally flexible "Hampering of Time" Hamper – recalling the elegant, staged picnics of Regency England. The tailored handmade picnic basket featured Lutyens' time inspired handmade games including a curious 'left handed' clock that makes time flow backwards. Lunch continued with exceptional versions of traditional picnic delicacies using only the best produce from quality British farms.
London based architect Sally Mackereth's Neolithic Bar served Royal Salute in gold leaf porcelain cups. The bar is handcrafted from sections of petrified wooden oak trapped on the riverbed in the River Sava in Croatia for some 8,000 years.
This journey through time was designed to capture the power of polo – a game first recorded 2,500 years ago, but still thrilling crowds at Guards Polo Club today. The Royal Salute Coronation Cup is a key part of the whisky brand's longstanding passion for the world of polo. The Coronation Cup was created to honour the coronation of HM King George V and Royal Salute was created to honour the coronation of his granddaughter, HM Queen Elizabeth II. With the The Queen's own gardens at Buckingham Palace hosting 500 year old Mulberry trees and helliborine orchids not seen elsewhere in London for over a century, Woodhams fascination with historical gardens made him the ideal partner for the lush enclosure.
Vadim Grigorian, Royal Salute Global Brand Director, explains: "At Royal Salute, we agree with Stanford professor Robert Pogue Harrison when he says 'a humanly created garden comes into being in and through time'. As a British brand, we are intrigued by this British gardening obsession, specifically with the time and care it takes to design an immaculate garden. It is only through time, tradition and craft where Royal Salute comes to existence, so we share similar principles with this quintessentially British tradition. And, where better to watch the oldest team sport on the planet? We at Royal Salute are deeply fascinated with polo – from its profound origins rooted in noble values to the naturally evolving symbiosis between player and horse. It is firmly planted in tradition, yet played in the modern world."
Brigadier John Wright, Chairman of the Hurlingham Polo Association said: "This year's Royal Salute Coronation Cup showcased international polo at its best. Both teams produced some superb sport on The Queen's Ground and it was marvellous to see and hear the crowds cheering them on. England's success today is testament to the hard work and commitment that James Beim and his team have brought to this game and I would like to thank everyone who has supported them, especially their fellow players who generously loaned ponies. In addition, South America put up a great fight and entertained us for six glorious chukkas. I would also like to thank Vadim Grigorian and his team at Royal Salute who have created a world-class platform on which we will promote English polo to an increasing audience."
For more information about the Royal Salute, click here.
Source: PR Newswire