Nearly 2,000 people attended a concert last week by country music superstar Tim McGraw to support patients and programs at the University of Maryland Children's Hospital (UMCH).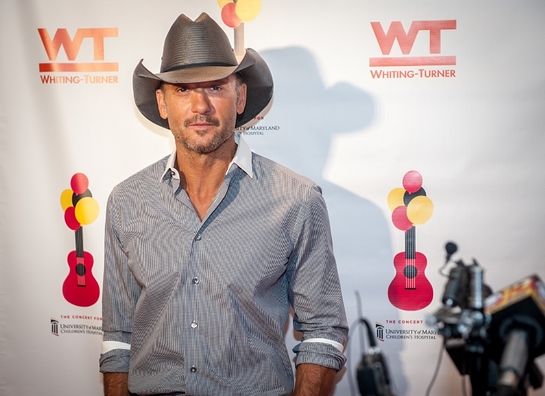 McGraw, a Grammy-winning artist who has sold 40 million records worldwide, performed signature favorites – including his inspirational chart-topping "Live Like You Were Dying" – at the benefit concert at the Joseph Meyerhoff Symphony Hall. Before the show, McGraw visited with several patients at UMCH and their families.
Maryland Gov. Larry Hogan, former Ravens linebacker Ray Lewis, and UMCH patients and their families also made guest appearances at the concert. Kool & the Gang, who recently celebrated 50 years together, played at an after-party at Mt. Royal Station at the Maryland Institute College of Art (MICA).
"We are enormously grateful for Tim McGraw's help in raising funds and shining a spotlight on the amazing work the University of Maryland Children's Hospital does every day to care for critically and chronically ill children throughout Maryland and the region," says Robert A. Chrencik, president and chief executive officer of the University of Maryland Medical System (UMMS).
"We're very pleased that so many people came out tonight to see Tim – and our other special guests – and to support the University of Maryland Children's Hospital," Mr. Chrencik says.
UMCH is a specialty hospital within the University of Maryland Medical Center (UMMC), the flagship academic medical center of UMMS, which includes 12 hospitals and health systems across Maryland.
Two UMCH patients, Desiriah "Desi" Brown, 5½, and Logan Reich, 13, took part in the program before the concert. Desi is currently being treated for neuroblastoma, a type of childhood cancer, and Logan had surgery to repair a severely fractured arm that he injured in a trampoline mishap. Logan was initially treated at University of Maryland St. Joseph Medical Center before being transferred to the UM Children's Hospital.
The lead sponsor for the concert was Whiting-Turner.
The University of Maryland Medical System (UMMS) Foundation presented the concert and after-party. To learn more about how you can support the work of the Foundation, and the Children's Hospital, please visit www.ummsfoundation.org.