The Elizabeth Glaser Pediatric AIDS Foundation (EGPAF) celebrated its 26th annual A Time for Heroes family festival on Sunday, Oct. 25 at Smashbox Studios in Culver City.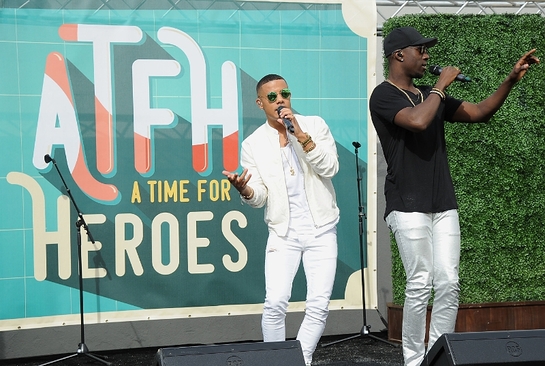 This widely celebrated event raised critical funds and awareness for the effort to end AIDS in children worldwide.
Celebrity attendees who showed their support included Celebrity Heroes Mark-Paul & Catriona Gosselaar ("Truth Be Told"), James & Kimberly Van Der Beek ("CSI: Cyber"), Eva Amurri Martino ("Undateable"), Hannah Simone ("New Girl"), Ariel Winter & Nolan Gould ("Modern Family"), Tony Hale ("VEEP"), Melissa Joan Hart ("Melissa & Joey"), Simon Helberg ("Big Bang Theory"), Sabrina Carpenter ("Girl Meets World"), Garcelle Beauvais ("Grimm"), Alyson Hannigan ("How I Met Your Mother"), Danica McKellar ("Wonder Years"), Jaime Pressly ("Mom"), Gilles Marini ("Switched At Birth"), Robbie Amell ("The Flash") with Italia Ricci ("Chasing Life"), Lauren Taylor ("Best Friends Whenever"), Chris Jericho (WWE), Justin Baldoni ("Jane The Virgin"), Lisa Rinna & Harry Hamlin ("Real Housewives of Beverly Hills"), Heather & Terry Dubrow ("Real Housewives of Orange County"), Tori Spelling & Dean McDermott ("Tori and Dean"), and model and actress Lydia Hearst ("South of Hell"), among others.
International music sensations Nico & Vinz performed their smash hit "Am I Wrong" along with other chart toppers that captivated and entertained A Time for Heroes attendees.
The festival hit a high note when a surprise birthday cake was brought out for Jake Glaser, son of Elizabeth Glaser, who turned 31-years old at the event. Elizabeth Glaser and her two best friends, Susie Zeegen and Susan DeLaurentis, co-founded EGPAF in 1988 to fight pediatric AIDS. Today, EGPAF operates in 15 countries around the world and has reached 23 million women with services help ensure their babies are born HIV-free.
"I am committed to working with global partners and advocates to create an AIDS-free generation," said Jake Glaser, EGPAF ambassador. "Thanks to the power of digital media, we truly can go where no generation has gone before—we can use our voices to activate a global community to end one of the greatest challenges mankind has ever faced."
Families in attendance enjoyed fun activities, including the Nickelodeon Animation Station, King of Harts Lake Tahoe camping experience, Cinema Makeup School play station, science room exploration station, gift bag screen-printing, basketball, virtual surfing and more.
Guests indulged in a selection of food offerings from top L.A. eateries in this year's "Restaurant Row," featuring a black chickpea salad by SAMBAR, Pink's Hot Dogs, beverages by The Coffee Bean & Tea Leaf, pumpkin ravioli by Drago Centro & Dolce Forno Bakery, tandoori chicken satay and French fry bar by Made by Meg Catering, fruit salad by Melissa's Produce, ONEHOPE Wine, pork sandwiches by Superba Food & Bread, and pizzas from The Urban Oven.
"This event is about more than celebrating how far we've come in the effort to end AIDS in children," said Charles Lyons, EGPAF president and CEO. "It is about bringing hope to the millions of children and families around the world who continue to be affected by this devastating virus. And thanks to all of you here today, EGPAF will push forward with our mission until no child has AIDS."
Every day, 600 babies become newly infected with HIV. EGPAF is committed to getting that number to zero through its lifesaving work to treat and prevent pediatric HIV around the world. Since 1989, A Time for Heroes has raised more than $35 million to support EGPAF's commitment to creating a world where no child has AIDS.