Last week, WebMD Health Corp., the leading source of health information, honored its 2015 Health Hero award winners who were recognized for their remarkable dedication to changing the healthcare landscape and for providing inspiration to those looking to overcome their own health challenges.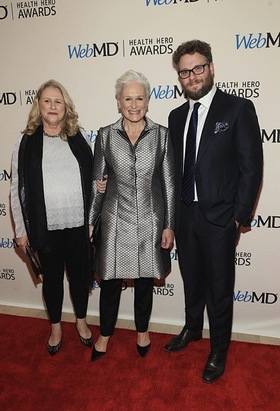 Good Morning America co-host Robin Roberts kicked off the evening by welcoming the crowd and recognizing this year's outstanding class of winners. Glenn Close was selected by the WebMD community as the 2015 People's Choice Award winner; Kenneth Shinozuka was presented the Prodigy Award; Ronald "Jake" Clark received the Advocate Award; and Dr. Bennet I. Omalu received the Scientist Award.
"Every single one of tonight's heroes faced a crossroads in their lives when – moved by compassion, moved by love, moved by the simple human desire to make things better in a time of difficulty – they made a conscious decision to act; to invent; to deliver; to show the simple, magnificent power of the human spirit," said Robin Roberts. "I hope their stories inspire each of us to engage our own inner hero to act."
"Over the years, my wife and I have really tried to get young people – specifically – engaged to fight Alzheimer's," said Seth Rogen. "When I heard about Kenneth, I was completely blown away. If I was more confident and cooler in high school, I could literally be your father, which is horrifying but kind of cool to think. You would have been of great pride to the Rogen family."
While introducing her sister, Jessie Close, thanked Glenn for saving her life before she was diagnosed with bipolar disorder. "To say I am grateful to be alive, grateful to Glenn, is an understatement. Mental illness was not something we discussed as a family. It was Glenn and our mother who saved my life, Glenn who brought me to the hospital and Glenn who stays in close touch."
"The 1 in 4 of us who are touched in some way by mental disorders need to hug each other – a lot; need to be there for each other through thick and thin; and need to help people understand that whether you are suffering from bipolar disorder, schizophrenia, cancer or diabetes, you are not your illness," said Glenn Close. "You are part of the human condition – the human family – worthy, like everyone, of love and respect."
The star-studded event included Seth Rogen, Harry Carson, Jessie Close, Kevin Lacz and Fran Drescher. The evening also featured musical performances by Amos Lee, Mary McBride and The Broadway Boys with hit songs including,Violin, I Don't Need No Doctor, and Heroes.
This year's WebMD Health Hero Awards Gala was supported by Allergan (allergan.com) and Cancer Treatment Centers of America (cancercenter.com). WebMD's Health Heroes each receive a $10,000 donation from WebMD to his or her cause and will be featured in the November/December issue of WebMD Magazine. In addition, each winner was presented with a custom designed award created by Thingsmiths using 3D printing technology.
To read more about WebMD's Health Heroes, or to learn more about the Awards Gala produced by Scott Mauro Entertainment, Inc./ Scott Mauro, Executive Producer, visit www.webmd.com/healthheroes.