More than $31 million was raised at last week's annual Friends of the Israel Defense Forces (FIDF) Western Region Gala, which was held at the renowned Beverly Hilton Hotel in Beverly Hills, CA.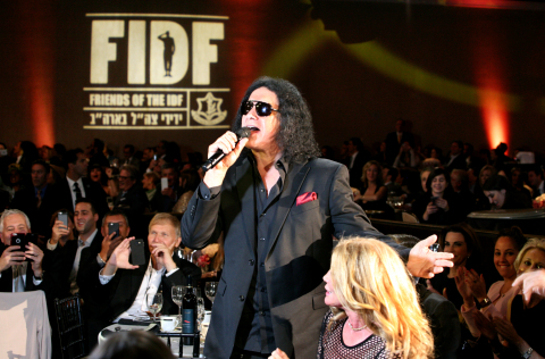 The sold-out Gala, which has become one of Los Angeles' standout charitable events, gathered more than 1,200 supporters from the United States and Israel to support the brave men and women of Israel.
FIDF National Board Member and major supporter, Haim Saban, and his wife, Cheryl, served as chairs of the Gala for the 9th consecutive year. Those in attendance included prominent business, philanthropic, and political leaders and leading names in entertainment, fashion and high-tech, including Jason Alexander, Antonio Banderas, Ari Emanuel, Liev Schreiber, Jason Segel, Gene Simmons and Mark Wahlberg.
"For the past nine years I have watched this gala grow into the preeminent charity event it is today, and I am truly humbled by the funds raised yesterday, which are a testament to the importance of the FIDF organization and its mission. The overwhelming support from the Los Angeles community continues to amaze me," said Haim Saban.
"We're excited and proud to take part in this noteworthy event, to join in celebrating the courageous soldiers of Israel. The mission of FIDF – providing wellbeing and educational programs to IDF soldiers – is invaluable to us as a society that cares for its younger generation and recognizes the soldiers' sacrifices," said Casey and Laura Wasserman.
The evening kicked off with a cocktail reception, followed by dinner and a program featuring stellar performances by David Foster & Friends, The Beach Boys and Asanda Jezile. Monica Crowley, bestselling author, political analyst and long-time supporter of the FIDF, returned as emcee, and FIDF National Director and CEO Maj. Gen. (Res.) Meir Klifi-Amir was present at the event, along with other FIDF national and local leadership. Other notable participants included Gabrielle Giffords, former Arizona congresswoman and member of the US House of Representatives; Serge Azria, CEO of Dutch LLC, and his wife Florence; Paul Marciano, co-founder of GUESS; and film producer and businessman Steve Tisch.
The evening's program recognized the heroism of the Lone Soldiers of the IDF, and included moving testimonies from bereaved mothers of fallen Soldiers. The program also featured an important presentation by a U.S. Veteran who demonstrated how Israeli medical technology is impacting the lives of Americans through the United States' strong relationship with Israel.