Edward R. Matthews, CEO of United Cerebral Palsy of New York City (UCP of NYC), announced that they will kick off the holidays with the 6th Annual Santa Project Party on Tuesday, December 1st, #GivingTuesday, at one of New York City's oldest social clubs, The Down Town Association. The event features a silent auction, hors d'oeuvres, live music, and an open bar.
The Santa Project Party, a benefit for UCP of NYC, began when committed supporters expressed a desire to do more for children with disabilities during the holiday season. The event now proudly raises money for special needs equipment requests and to purchase holiday gift cards for every child in UCP of NYC's five Children's Schools.
"UCP of NYC is extremely grateful this holiday season for our hosts, co-chairs, honorary chairs, corporate sponsors, donors and friends," says Edward R. Matthews. "Their support and concern for our neediest children and families truly exemplifies the spirit and generosity of New Yorkers."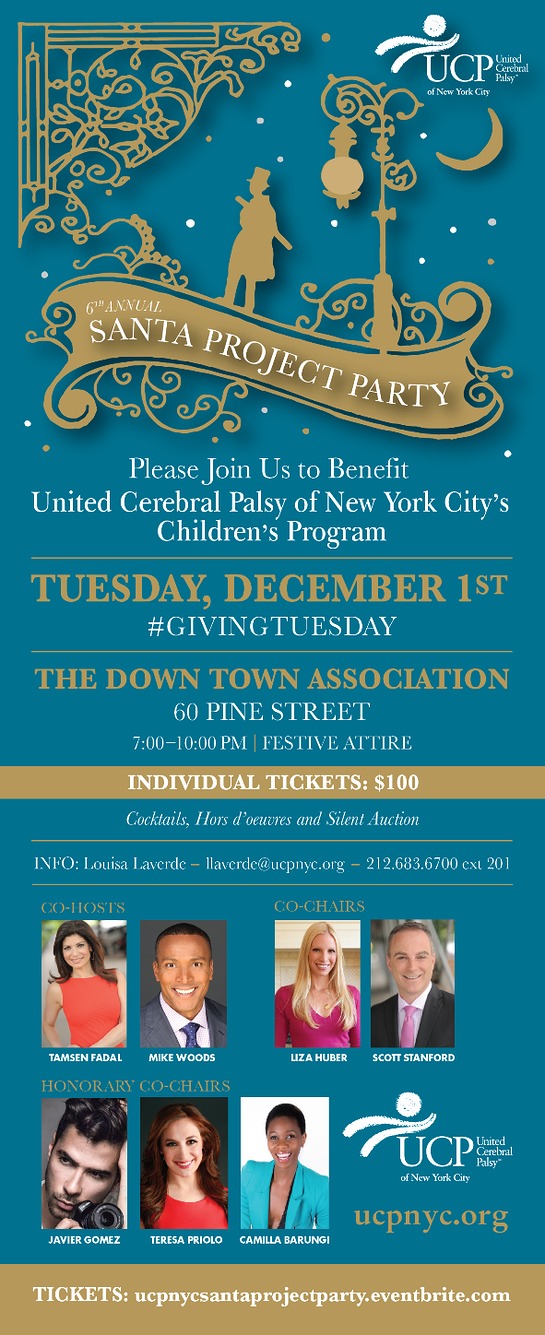 The event, which falls on #GivingTuesday – a day for charities, individuals, businesses, community partners, and people around the world to celebrate generosity and to give – will be co-hosted by Tamsen Fadal, seven-time Emmy-winning Anchor of PIX 11 News, Host of Broadway Profiles and bestselling author, and Mike Woods, Meteorologist, Fox 5's Good Day New York, and People Magazine's "Sexiest Anchor Alive."
"I am delighted to co-host the Santa Project Party & Auction with Mike Woods," says Tamsen Fadal. "UCP of NYC reaches thousands of families and individuals with disabilities throughout New York City. I am continually impressed by the scope and magnitude of their programs and ability to positively impact people's lives."
"I am a big supporter of UCP of NYC and their ongoing work to provide such a variety of necessary programs and services to children, families, and adults with disabilities," says Mike Woods. "I am also thrilled to be co-hosting the event with long-time UCP of NYC supporter, Tamsen Fadal."
Liza Huber, Founder & CEO of Sage Spoonfuls, past star of the hit TV series Passions, and mother of a child with Cerebral Palsy will co-chair the Santa Project with Scott Stanford, Emmy-winning Lead Sports Anchor, PIX 11 News, and host, WWE.
Honorary Chairs of the Santa Project Party & Auction this year are: Teresa Priolo, three-time Emmy-nominated reporter, Fox 5 News & Good Day New York; Camilla Barungi, model, entrepreneur and activist of Project Runway fame; Javier Gomez, People Magazine's "Sexiest Artist Alive," noted fine art photographer & entrepreneur.
The Santa Project Party features a silent auction with a range of luxury goods and services for guests to bid on in support of UCP of NYC. In addition to a strong showing of support from a diverse young professional crowd, the event expects to draw celebrity guests from fashion, film, television, and Broadway.
The Santa Project Party will take place on December 1st, 2015, Giving Tuesday, from 7:00pm -10:00pm at the Down Town Association; 60 Pine St, New York, NY 10005. Individual tickets are $100 dollars with additional sponsorship packages available. To purchase tickets visit: www.ucpnyc.org or contact Louisa Laverde at llaverde@ucpnyc.org or 212-683-6700 ext. 201.
About United Cerebral Palsy of New York City
United Cerebral Palsy (UCP) is the fifth largest U.S. health organization. In New York City, UCP of NYC is a leading nonprofit provider of direct services, technology, and advocacy to children and adults with cerebral palsy and other disabilities. UCP of NYC offers a breadth of more than 75 comprehensive programs including medical, clinical, educational, technological, residential, and rehabilitative services to over 14,000 individuals and families annually. The mission of United Cerebral Palsy of New York City is to create opportunities for people with disabilities to lead independent and fulfilling lives.
For more information about United Cerebral Palsy of New York City, visit: www.ucpnyc.org.