Prince Harry, Patron of the Walk of Britain, officially marked the end of the Walking With The Wounded's latest endeavour, the Walk Of Britain on the forecourt of Buckingham Palace.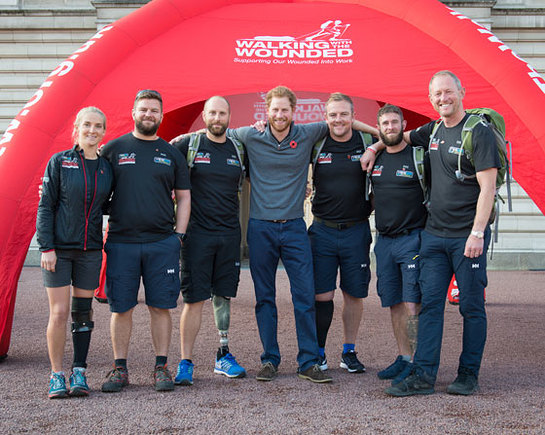 His Royal Highness welcomed the six members of the Walk of Britain team and their families as they concluded their 1000-mile trek, which began on 22 August in Scotland and continued through the length and breadth of the country to London.
The Walk of Britain's core team – made up of six wounded ex-servicemen and women – Stewart Hill, Matt Fisher, Alec Robotham, Scott Ransley, Kirstie Ennis and Andrew Bement – all have physical or cognitive injuries sustained in the line of duty. They have been joined by other wounded personnel and supporters each week of their expedition which spans the North East, North West, Wales, Midlands, South West, South East and East Anglia.
The walk engaged with local communities every day to highlight the extraordinary determination of wounded personnel. It also raised awareness for the work that Walking With The Wounded is carrying out across the country to support the wounded making the transition to civilian life and independence.
The team of six have also recently launched the charity's Christmas campaign 'Walking Home For Christmas', calling on people to raise vital funds for homeless veterans who don't have a home to go to this Christmas. Backed by Nick Knowles, Dominic West, Julia Bradbury and Sir Chris Bonington, the campaign will kit thousands of people out in special Santa hats, and encourage them to take on an expedition of their own this December.
WWTW offers assistance to veterans who have been physically, mentally or socially disadvantaged by their service and assists them in gaining independence through new long term careers outside of the military. This includes providing support to homeless veterans and veterans in the Criminal Justice System. The charity recognises the varied skills of armed service personnel and aims to provide support to transfer their skills into the civilian workplace.
Prince Harry has participated in the Walk of Britain on two separate occasions over the last month, joining the team on their walks through parts of Shropshire and Norfolk, where the charity's HQ is based. He has supported WWTW since the charity was formed, taking part in their trek to the North Pole in 2011; to the South Pole in 2013; and was also Patron of their Everest Expedition in 2012.
Source: www.princehenryofwales.org