This holiday season Jimmy Kimmel makes his St. Jude Thanks and Giving campaign debut alongside returning celebrity friends Jennifer Aniston, Sofia Vergara, Michael Strahan, Luis Fonsi and St. Jude Children's Research Hospital National Outreach Director Marlo Thomas.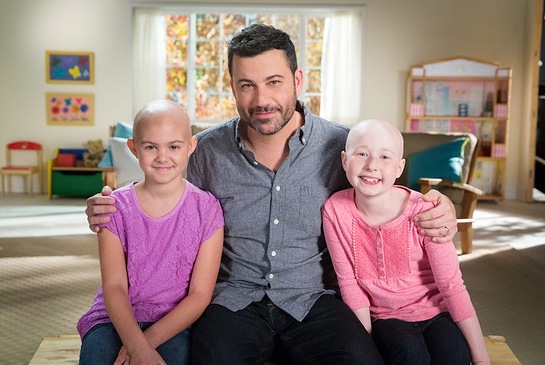 Collectively, they star in national television spots and a star-studded movie trailer asking people to help transform the holiday season into a time of giving thanks by raising funds and awareness for the ongoing battle to end childhood cancer and other life-threatening diseases.
The St. Jude Thanks and Giving campaign is an unprecedented union of celebrities, media and more than 70 of the nation's leading, national brands that ask consumers to support St. Jude while they shop this November-December. The national television spots debut on Monday, Nov. 23, and run through the end of the year.
"I'm honored to be involved in the St. Jude Thanks and Giving campaign this year and to be part of the team that is helping to save the lives of children in communities across America and around the world," said Kimmel. "My new friends Kenlie and Jaycee, who I filmed a television spot with this year, are a true inspiration to me. I hope that everyone will join me and help the children of St. Jude who are in the biggest fight of their lives."
The campaign's national television spots air on network and cable television channels, as well as online, in both English and Spanish. The movie trailer appears in theatres nationwide and in Puerto Rico — including Regal Entertainment Group, AMC Theatres, Cinemark USA, Carmike Cinemas, Malco Theatres and many others. Additionally, the PSA is shown on American Airlines and Delta Air Lines flights and through Accent Health's waiting room media network, a division of CNN. All of the spots, as well as exclusive behind-the-scenes footage, will debut online in late November.
The campaign will receive additional celebrity support from Lily Aldridge, Ashley Tisdale, Ashley Greene, Lucy Hale, The Band Perry, Sam Hunt, Olivia Holt, Zac Posen, David Lee, Mike Conley, Cristian de La Fuente, Karla Martinez, David and Tamela Mann, Jazmine Sullivan, Erica Campbell, Travis Greene, Anita Wilson, Latice Crawford and many others in the form of radio spots, online videos, social media support and more.
"We are so thankful for this incredible group of celebrity friends who lend their hearts, time and talent for our St. Jude Thanks and Giving campaign," said Marlo Thomas, National Outreach Director for St. Jude Children's Research Hospital. "They help us bring our lifesaving mission to millions of people who then open their hearts to the children of St. Jude during the holiday season. This amazing support allows us to keep my father's founding promise that no family pays St. Jude for anything – not for treatment, travel, housing or food – because we believe all a family should worry about is helping their child live."
In addition, celebrities created holiday product to benefit St. Jude. Longtime supporter Daisy Fuentes designed an inspirational bracelet and the family of Maya Angelou designed a one-of-a-kind blessings jar for the St. Jude Gift Shop. Both of these products, along with hundreds of St. Jude items ranging from ornaments, baking goods and apparel, are available to purchase online during the holiday season with all proceeds benefitting St. Jude.
"These powerful voices and passionate hearts join Marlo Thomas and our long legacy of celebrities who have embraced Danny Thomas' vision that 'no child die in the dawn of life,'" said Richard Shadyac Jr., President and CEO of ALSAC/St. Jude Children's Research Hospital. "With their support, the St. Jude Thanks and Giving campaign has become part of a holiday tradition that reminds us all to reflect on the spirit of gratitude and to give so that we can find cures and help save children with cancer and other life-threatening diseases."