This New Year's Eve, Bovet 1822 continued their partnership supporting Artists for Peace and Justice by sponsoring a fundraising gala in Aspen benefiting the children of Haiti.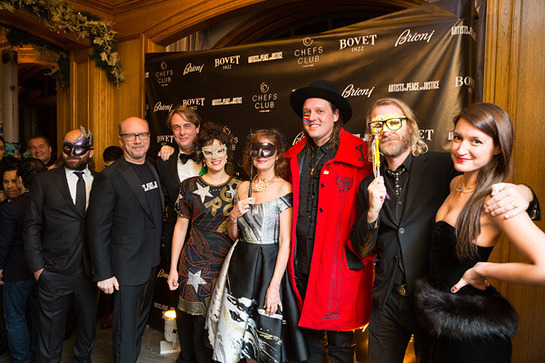 For the first time ever, guests and locals of Aspen alike were invited to join co-host and Academy Award winner Paul Haggis, Academy Award winner Susan Sarandon, star polo player and model Nacho Figueras and his wife Delfina Blaquier, Regis Aspen owner Stephane De Baets, Amy Sacco, and more for the most glamorous event of the year at the St. Regis Aspen Resort for the inaugural Midnight Masquerade Ball.
Event guests included the evening's performers, Win Butler and Regine Chassagne of Arcade Fire, musician Rufus Wainwright, actress and model Madalina Ghenea, and front man of The National, Matt Berninger.
All in all, over $500,000 was raised for Artists for Peace and Justice (APJ), the non-profit organization founded by Paul Haggis and friends in 2009 that encourages peace and social justice and addresses issues of poverty around the world. The organization's immediate goal is to serve the poorest communities in Haiti with programs in education, healthcare, and dignity through the arts. The Midnight Masquerade was a party for guests to do some good while having fun.
Highlights of the evening included a surprise appearance by Katharine McPhee, who sang to the crowd at the start of the four-course dinner, and a special live performance by Arcade Fire's Win Butler and Regine Chassagne, who were joined onstage by Matt Berninger from the National for a beautiful version of "Wake Up." Guests including Rufus Wainwright and Madalina Ghenea along with host Paul Haggis all wore Bovet 1822 timepieces.
Over the past three years Bovet 1822 and APJ have built their partnership on shared values of quality, integrity, and a commitment to excellence. Together, they have set the tone for a number of productive and thoughtful fundraising events, raising millions of dollars for the cause based on beautiful experiences and an unwavering belief in the future of Haiti.
Pascal Raffy, owner of Bovet 1822, says "this is a beautiful way to start a new year, and our partnership with Artists for Peace and Justice continues to uphold the same valued qualities of the house of Bovet. We are proud that coming to Aspen this year was a success and that we can help guarantee that 100% of the gifts from this beautiful evening go straight to supporting the children and school in Haiti where it is so desperately needed."
Says APJ Founder and a co-host of the Midnight Masquerade Paul Haggis, "I couldn't think of a better way to start 2016. Artists for Peace and Justice has always benefited from our extraordinary, ever-growing, committed friends who are all dedicated to achieving meaningful results for the children of Haiti. The Midnight Masquerade brought together old friends and an opportunity to make new friends and continue to build on our fantastic achievements. In the coming year, we will be prepared for new challenges but also a bright beginning for our first-ever graduating high school class."
Pascal Raffy and Bovet 1822 are part of a who's who list of APJ board members and supporters, as well as entertainment and other industry leaders, united around one common cause: removing the barriers that poverty poses to children in Haiti by committing to long-term, sustainable development in direct partnership with the Haitian people. This New Year's Eve provided a promising start to another year of improvement and uplifting.