The Hollywood Vampires (Alice Cooper, Johnny Depp, Joe Perry) will make their television debut in front of a worldwide audience when they perform on the 58th Annual GRAMMY Awards, Feb 15 on CBS.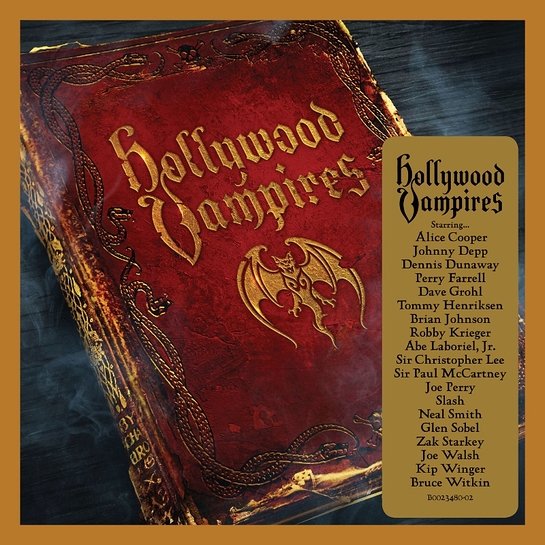 A super-group comprised of rock royalty and Hollywood superstar, the Vampires will hit the stage offering fans a special surprise for what will be a highlight on Music's Biggest Night.
The Hollywood Vampires live again with the release of a new digital deluxe version of their self-titled album available to all digital partners on Feb 12. This expanded version includes three additional songs, including one original and two rocking covers.
The deluxe version includes the scorching new single "Bad As I Am" an original song penned by Johnny Depp, Tommy Henriksen, and Bruce Witkin and features Matt Sorum, Duff Mckagen, Joe Perry, Johnny Depp and Alice Cooper.
Also included is "I'm A Boy," a Who original, that was only available as a Japanese bonus track.
"7 and 7 Is" is an unreleased track from the album sessions and is the classic song by the legendary Los Angeles band Love, a Vampires special pick and one that Alice covered on his 1981 solo album, Special Forces.
A little history on the Vampires: in 1969 on the Sunset Strip at a club called the Rainbow Bar & Grill, the Hollywood Vampires were born in the upstairs bar. It was a gathering place for the rock stars living in or passing through L.A. "To join the club, one simply had to out drink all of the members," says Alice Cooper, a founding member of the original Vampires.
Alice and good friend Johnny Depp got together and decided the spirit of the Hollywood Vampires should live again (minus the drinking). Alice and Johnny were joined by Joe Perry, who is an old friend of both of them, and the recording began: a tribute to the original Hollywood Vampires. An environment was born for great artists to hang, laugh and play together.
Joining the Hollywood Vampires for their GRAMMY performance is Matt Sorum on drums, Duff McKagan on bass, Tommy Henriksen on guitar, and Bruce Witkin on piano and guitar.
During the recording of the album, Alice, Johnny and Joe and producer Bob Ezrin were joined by an amazing group of modern day Vampires, including Perry Farrell, Dave Grohl, Sir Paul McCartney, Joe Walsh, Slash, Robbie Krieger, Zak Starkey, Brian Johnson and Kip Winger, to record tracks by their dead friends and heroes.
The album package, an antique book, was created by noted men's fashion designer (and rock fan) John Varvatos in his signature vintage style.
All artist proceeds will be donated to MusiCares, an organization that provides a safety net of critical assistance (financial, medical and personal emergencies) for music people in times of need.