James Corden's much-loved character 'Smithy' is making a comeback for Sport Relief.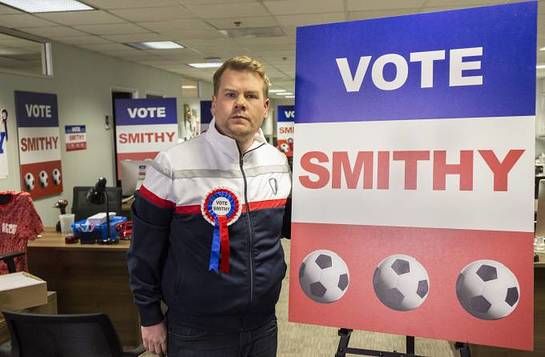 In an exclusive sketch for BBC iPlayer, football-mad Smithy will announce his intention to run for FIFA President, after taking the Cherry Tree Sunday league football team all the way to joint 9th position in the Billericay Echo Premier.
Some of football's greatest names will come out in support of Smithy's vision for the future of the beautiful game, including England World Cup winning hero Sir Geoff Hurst, Brazilian football legend Pelé, England icon Steven Gerrard and the 'Special One' himself, Jose Mourinho.
In the spoof Smithy shares his dream for the future of the game and how he believes it can restore itself to its former glory on the world stage.
His announcement is live on BBC iPlayer and will also be shown during the Sport Relief Night of TV on BBC One on Friday 18th March from 7pm.
James has long been a supporter of Sport Relief and Comic Relief, having previously filmed one-off sketches including; England Team rant (2009), SPOTY speech (2010) and Smithy Saves The Day (2011).
To watch the exclusive sketch go to BBC iPlayer.
Money raised this Sport Relief will make a huge difference to people living incredibly tough lives, here at home in the UK and across the world's poorest communities. Get involved by walking, running, swimming or cycling at one of over 1,000 Sainsbury's Sport Relief Games events across the UK.