By Steve Purcell on
On Sunday actor Ryan Reynolds achieved his dual goals of running the NYC Marathon and raising funds for research into Parkinson's Disease.
The star of Smokin' Aces and Chaos Theory finished the race in a respectable 3 hours and 50 minutes, running for Team Fox, a community started by the Michael J. Fox Foundation to support Parkinson's research.
Reynolds has a personal connection to Michael J. Fox's project — his father Jim Reynolds has suffered from Parkinson's disease for 15 years. "Witnessing my Dad suffer over the years galvanized my need to step up," he wrote on his TeamFox page.
Meeting Fox prompted Reynolds to make a commitment:
"I found it impossible not to be touched by his story of overwhelming strength, passion and relentless commitment to help those afflicted with this insidious disease. The man is inspiration exemplified. Plus, he was in Back To The Future. Which was, well, awesome. In a moment of extremely poor judgment, I offered to do something big for him—I offered to compete in the New York City Marathon. Which was, well… dumb."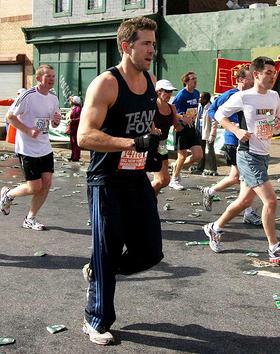 Two years later, the self-described "running joke" has made good on his promise, describing his training routine as "nothing short of horrifying", but the race itself as "incredible".
"When I saw Michael J. Fox on Fifth Avenue, I gained about 15 pounds in goose bumps," said Reynolds. "It kind of pushed me through the last six miles or so."
Reynold's mother and brother welcomed him at the finish line, and his wife Scarlett Johansson was expected out on the route to offer her support, after spending her Saturday campaigning for Barack Obama at an Ohio university.
The actor's challenge has netted in excess of $80,000 in contributions to the charity so far. It's not too late to add to the total: visit Ryan's funny and touching TeamFox page to find out more, and perhaps make a donation yourself.