Uma Thurman, Adrien Brody, Karolina Kurkova, Michelle Rodriguez, Pansy Ho, Aloe Blacc, Elle King, Michelle Yeoh, and amfAR Chairman of the Board Kenneth Cole were among those who gathered at the second annual amfAR Hong Kong Gala at Shaw Studios to honor Victoria Beckham for her commitment to the fight against AIDS.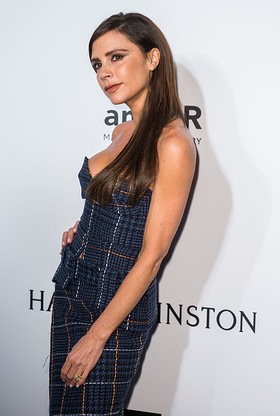 The event, presented by Harry Winston and Calvin Klein Collection, raised over $4 million for amfAR's life-saving AIDS research programs.
Other guests in attendance included Liu Wen, Carina Lau, Coco Lee, amfAR Global Fundraising Chairman Milutin Gatsby, Francisco Costa, Italo Zucchelli, Kevin Carrigan, Elvis Han, Zhou Xun, So Ji Sub, Lang Lang, Rosamund Kwan, Valentina Zelyaeva, Anita Yuen, Josie Ho, Laurinda Ho, Sabrina Ho, Cathy Chow, Niki Chow, Amanda S, Ying Claudine Lauren, Yvette Yung, Harris Chan, Oscar Wang, Hwang Chi Yeul, Shui He, Yan Lv, Maisy Ho, Angela Leong, Arnaldo Ho, Orlando Ho, Maria Ho, Bao Bao Wan, Andy Chen, Paolo Diacci, Vinay Dube, René Koneberg, Vincent Roberti, Victoria Tang, Ying Claudine Lauren, Michelle Ong, Winnie Chiu, Yvette Yung, Jean-Marc Lacave, Achille Boroli, Y C Koh, Wendy Yu, Rachel Lehmann, David Maupin, and Bill Zhao, among others.
amfAR Chairman of the Board Kenneth Cole encouraged guests to celebrate how much has been accomplished in the fight against HIV and AIDS while not losing sight of the hard work that remains to be done to end the epidemic, through programs such as amfAR's Countdown to a Cure for AIDS initiative and the TREAT Asia Program.
Newly named UN Goodwill Ambassador Michelle Yeoh thanked the event's sponsors with amfAR CEO Kevin Robert Frost, who announced the launch of a limited edition Countdown to a Cure Timepiece by Harry Winston. Twenty percent of the retail sales price of the men's and ladies' timepiece will be donated to amfAR's efforts to develop a cure for HIV.
Event Chair Pansy Ho graciously thanked the sponsors and guests who made the event possible and invited all of the event Co-Chairs to take the stage for a family photograph.
Uma Thurman introduced the amfAR Award of Courage to Victoria Beckham, describing her as "a champion and leader in the global fight against AIDS." Ms. Beckham thanked the individuals she has met over the past two years as a UNAIDS International Goodwill Ambassador, a role in which she raises awareness for young women and girls affected by the epidemic, ensuring to use her voice to build a healthier society and see an end to AIDS.
Guests enjoyed bidding on exclusive items during the live auction, conducted by Simon de Pury. Highlights included:
• Eight unique Andy Warhol photographs from his first and only trip to China in 1982 sold for $190,000.
• Model Karolina Kurkova introduced dazzling Harry Winston "Triple Diamond Loop Earrings," set with rubies designed exclusively for the Hong Kong gala, which sold for $75,000.
• I Fell in Love Here, a neon work by renowned English artist, Tracey Emin, sold for $120,000.
• Adrien Brody donated an original piece of art, titled Grey Dragon, which sold for $100,000.
• A magnificent 7-night stay for 12 people at the largest and most beautiful residence in Maldives, the Amilla Estate at Amilla Fushi, Baa Atoll, sold for $200,000.
• Two VIP invitations to the first ever gala dinner hosted by HSH Prince Albert II of Monaco in Monte Carlo and a "Sapphire Experience" during the Monaco Yacht Show sold three times for a total of $450,000.
• Five pieces from contemporary Chinese artists Cui Xiuwen, Yan Lei, Huang Gang, Wang Yuyang, and Ciu Ruzhuo, generously donated by amfAR Hong Kong gala Auction Partner, Poly Auction, sold separately for a total of $480,000.
The evening also featured three spectacular live performances. Legendary Chinese concert pianist Lang Lang played two beautifully powerful pieces, and Elle King gave a sultry acoustic performance of her Grammy-nominated hit song "Ex's and Oh's." Grammy-nominated soul artist Aloe Blacc ended the evening with a set of his biggest hits that brought the crowd to a frenzy, including "Candyman," "I Need a Dollar," "The Man," and "Wake Me Up."
Pansy Ho served as the Event Chair. Uma Thurman served as the event's Honorary Chair. Achille Boroli, Adrien Brody, Winnie Chiu, Veronica Chou, amfAR Chairman of the Board Kenneth Cole, Francisco Costa, Vinay Dube, amfAR Global Fundraising Chairman Milutin Gatsby, Nayla Hayek, Y C Koh, René Koneberg, Karolina Kurkova, Jean-Marc Lacave, Carina Lau, Ying Claudine Lauren, Cathy Lee, Michelle Ong, Vincent Roberti, Michelle Rodriguez, David Tang, Michelle Yeoh, Yvette Yung, and Italo Zucchelli served as Co-Chairs. Harris Chan, Laurinda Ho, Sabrina Ho, Jay Jopling, Rachel Lehmann, David Maupin, John Robert Slosar, Oscar Wang, and Wendy Yu served as Vice Chairs.
Harry Winston and Calvin Klein Collection were the Presenting Sponsors. American Express, Audi, Delta Air Lines, and Moët Hennessy were the Signature Sponsors. JOLLYONE and SMI Holdings Group Limited were the Gold Sponsors, and The Upper House was the event's Hospitality Partner. Poly Auction was the Auction Partner. Special Thanks to Boroli Wines and Island Shangri-La, Hong Kong.
In 2001, amfAR launched TREAT Asia, a cooperative network of clinics, hospitals, and research institutions working together with civil society to ensure the safe and effective delivery of HIV/AIDS treatments throughout Asia and the Pacific. TREAT Asia now encompasses 21 adult and 18 pediatric clinical sites across the region.
Delta Air Lines is the Official Airline Partner. Moët Hennessy is the Official Wine and Spirits Partner. amfAR Hong Kong was produced by Andrew Boose/AAB Productions and Josh Wood/Josh Wood Productions.