Big Machine Label Group, General Mills and Feeding America have announced the launch of this year's Outnumber Hunger campaign, a nationwide effort aimed at fighting hunger in America.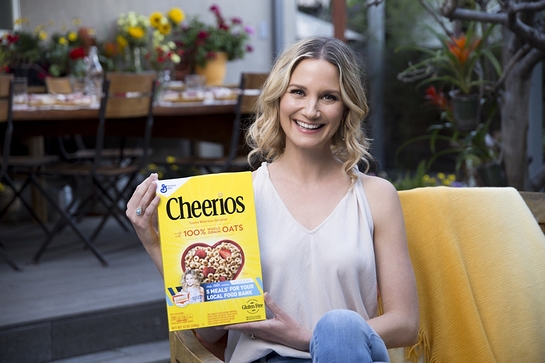 GRAMMY Award-winning Country superstar Jennifer Nettles serves as this year's campaign spokesperson.
"Being the face of this year's Outnumber Hunger campaign is so exciting, and not just because I'll be on the front of a cereal box!" laughs Nettles. "What encourages me about this partnership with Big Machine, General Mills and Feeding America is the opportunity to really affect hunger within local communities. I'm thrilled to be a part of this program because my fans can conveniently go to their grocery store, pick up products already on their shopping list, and can help their neighbors, just by entering a code."
As part of the campaign, Nettles, along with other Big Machine Label Group artists, will be featured on the box of more than 150 participating General Mills products including: Cheerios, Lucky Charms, Nature Valley and Old El Paso. To participate, individuals can purchase specially marked products, then enter the code found on the packaging and their zip code at Outnumberhunger.com to help Feeding America secure five meals on behalf of their local food bank.
"When you start programs like Outnumber Hunger, you only hope that there will be so much support and drive from all partners. The Big Machine Label Group and our artists are honored to join General Mills and Feeding America for a fifth year of helping secure meals nationwide for the 48 million who need it," said BMLG President & CEO Scott Borchetta. "We are passionate about fighting hunger and using bigger platforms to make a difference in lives across the country."
During its five year history, Outnumber Hunger has included numerous components and support from BMLG artists including Rascal Flatts, Florida Georgia Line, Reba McEntire, Thomas Rhett, Cassadee Pope, Danielle Bradbery and more, who have performed during first-rate charity concerts and made visits to local food banks. Outnumber Hunger has also included BMLG artist integrated radio and media campaigns. This first-of-its-kind partnership has helped secure more than 40 million meals for Feeding America, the nation's largest domestic hunger-relief organization, and has helped to bring national awareness of the 1 in 7 Americans who struggle with food insecurity. For more information on how you can help Feeding America secure five meals for your local food bank by purchasing participating General Mills products, visit Outnumberhunger.com.
"As a leader in food, we have a responsibility to do what we can to support the one in seven Americans who may not know where their next meal is going to come from," said Jay Picconatto, director, General Mills. "We are excited to partner with Jennifer Nettles, Big Machine Label Group and Feeding America to bring attention to the issue of hunger in America and provide meals to those who turn to their local food bank for help."
"There are families in every community across the country who are challenged consistently to provide balanced meals for their household," said Diana Aviv, CEO at Feeding America. "With millions of families in the U.S. facing hunger, this is a critical time for our network to collaborate with other advocates for hunger relief to help provide support for people in need. Support from programs like Outnumber Hunger bring much-needed awareness and an opportunity for anyone to join the fight to end hunger in America."
One of Country music's most compelling voices, Nettles was first introduced to audiences as part of the award-winning duo Sugarland and has since showcased her true triple threat status: actress, singer, songwriter. Her most recent role as Dolly Parton's mother on NBC's record-breaking "Dolly Parton's Coat of Many Colors" bio-pic drew more than 13 million viewers. Nettles current critically acclaimed single, "Unlove You," is the lead track off of her highly-anticipated second solo studio album Playing With Fire, which will be released May 13 on Big Machine Records and is available for pre-order now.