The Black Rock Coalition, Nona Hendryx, and Sweet Relief Musicians Fund present 
"All The WOO In The World" – A Benefit for Bernie Worrell on Monday, Apr 04 2016 at the Webster Hall in New York.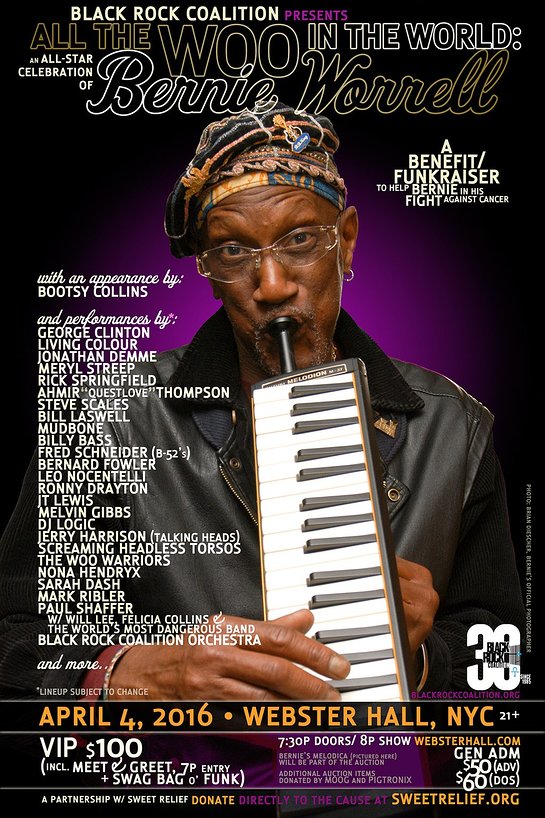 Bernie Worrell is a keyboardist and composer best known as a founding member of Parliament-Funkadelic and for his work with Talking Heads. He is a member of the Rock and Roll Hall of Fame, inducted in 1997 with fifteen other members of Parliament-Funkadelic. Bernie is currently fighting stage-four lung cancer. He's also been diagnosed with prostate cancer.
Get your TICKETS here.
Featuring appearances by legendary performers Bernie has collaborated with over the course of a five decades-plus career, including: Bootsy Collins, George Clinton, Living Colour, Questlove, Jerry Harrison, Jonathon Demme, Meryl Streep, Rick Springfield, Maceo Parker, Mudbone, Fred Schneider, Steve Scales, Leo Nocentelli, Nona Hendryx, Sarah Dash, Ronnie Drayton, Melvin Gibbs, The WOO Warriors, Screaming Headless Torsos, Mark Ribler, Paul Shaffer and The World's Most Dangerous Band and The Black Rock Coalition Orchestra, led by Gene Williams AND MORE.
Support Bernie in his fight against cancer 
by donating to the Bernie Worrell Fund.