The entertainment industry turned out in force Thursday night in support of MPTF's (Motion Picture & Television Fund) fifth annual "Reel Stories, Real Lives" event, a unique evening of powerful readings which told the stories of industry members and their families who have benefitted from MPTF's services in recent years.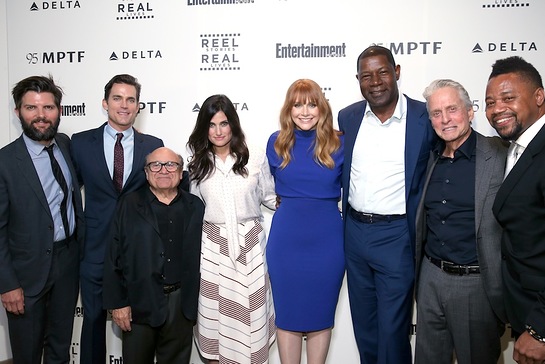 The event, held at Milk Studios, featured readings by renowned Hollywood actors including Matt Bomer, Danny DeVito, Michael Douglas, Cuba Gooding Jr., Dennis Haysbert, Bryce Dallas Howard, and Idina Menzel, and was hosted by actor Adam Scott. The event was sponsored by Delta Air Lines, with Entertainment Weekly serving as the official media partner.
Each story was written by some of Hollywood's leading feature and television writers including Jeremy Doner, Callie Kloves, Michele & Kieran Mulroney, and Drew Pearce.
"RSRL is a powerful reminder why MPTF is so critically important to our industry. Hearing these personal stories written with such dignity by talented writers and presented with such passion from the actors who give of their time and talent inspires us all to do what we can to support MPTF. I am grateful to Michael Douglas for allowing his family's story of support to be shared since their many contributions are such a significant part of the contemporary history of MPTF's 95 years," said Jeffrey Katzenberg, CEO of DreamWorks Animation and Chairman of the MPTF Foundation.
The event, which drew approximately 500 industry leaders and celebrity guests, was produced by Guymon Casady, Julie Darmody, William Gerber, Eric Kranzler, Kevin McCormick, Karen Rosenfelt, Greg Sills, Courtenay Valenti, and Warren Zavala.