Last week, The Alliance for Women in Media Foundation handed out the 41st Annual Gracie Awards to a packed house at the Beverly Wilshire Hotel in Beverly Hills.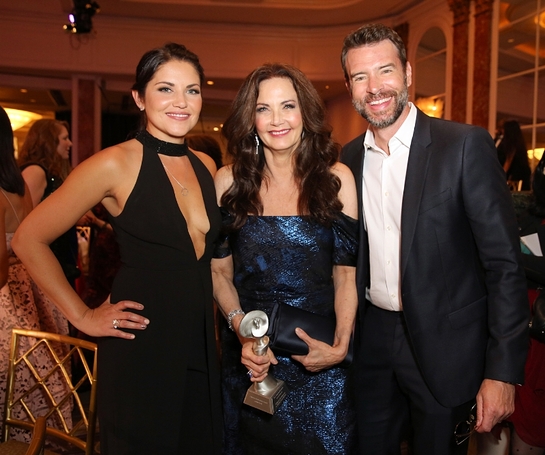 First-time host Marika Domińczyk led the show like a veteran eliciting laughs from the audience and keeping them engaged. The Gracie Awards were presented to honorees which were previously announced on March 21, 2016 (view full list of honorees here) in recognition of their successes in the media industry.
The ceremony, led by executive producer Vicangelo Bulluck and featuring a production team with a female director, female assistant director, female stage manager and an all-female camera crew, hosted honorees like Lifetime Achievement Honoree Lynda Carter, Mindy Kaling, Allison Janney, Kathie Lee Gifford and more, while presenters and additional guests in attendance included Octavia Spencer, Scott Foley, Marilu Henner, Melissa Rivers, Maureen "Mo" Langan, Andrea Navedo, Danica McKellar, Lesley-Ann Brandt and more.
Highlights from the show include:
• Allison Janney, after being presented her award by Octavia Spencer for her work on Mom, gave a warm-hearted speech around her admiration of the Alliance for Women in Media for recognizing her work on a show that celebrates women, stating that "women who find that getting through all of the ups and downs of life, they find it easier to get through it leaning on each other. That's what we do as women. That's what we should do. It makes us stronger and more powerful." 

• Mindy Kaling took a light-hearted approach on an issue very important: pay inequality. "For years and years, the role of a lead actress on a sitcom was to do two things: look amazing and make one-third of what my co male star makes." She continued, "I want to be clear. I do always look amazing on the show, and no man on that show makes more money than me." 

• 2016 Gracies Lifetime Achievement Award recipient and original Wonder Woman Lynda Carter received nothing short of a standing ovation when she was presented with the top honor of the evening. She touched on trailblazing women she looked up to like Lucille Ball, Carol Burnett and legendary stuntwoman Jeannie Epper, and expressed that the idea of her as a role model and "the fact that I may have inspired [young women] makes me happy." 

• Kathie Lee Gifford gave an acceptance speech thanking the broad audience who has accepted and supported her. "I am so grateful that I found an audience that let me be me. That let me share my ups and downs. That their heart broke when my heart broke. And they laughed at my stupid jokes and they forgave me when I made mistakes. And I cannot tell you how deeply grateful I am." She finished by dedicating her award to her late husband Frank Gifford pointing to the sky and announcing, "This is for you, honey. You made me laugh." 

• Grammy Award-nominee Andra Day took to the stage for the unforgettable performance of the evening. Day brought the house down and the audience to their feet as she gave a flawless and empowering performance of her single Rise Up from her album "Cheers to the Fall."