Award-winning movie star Michelle Yeoh and two baby pandas have kicked off the Pandas for the Global Goals campaign, which urges the public to get involved in the fun of naming the cubs, as well as in the serious work of realizing the Sustainable Development Goals (SDGs) adopted last year by the United Nations Member States.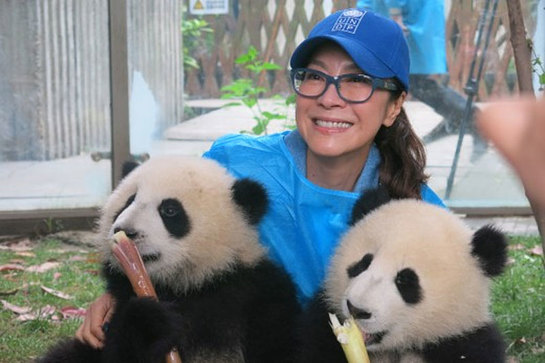 Earlier this year, Ms. Yeoh, who starred in the James Bond film Tomorrow Never Dies and Ang Lee's Academy Award-winning Crouching Tiger, Hidden Dragon, was appointed as UN Development Programme (UNDP) goodwill ambassador to promote the SDGs.
UNDP has also appointed the two panda cubs, who were born at the Chengdu Panda Base in China in the same year as the SDGs, as its first-ever animal 'ambassadors' to help raise awareness of the new Goals.
"I have joined forces with these two adorable, fuzzy panda babies to get the public interested and engaged in supporting the Global Goals – because who doesn't love pandas? Protecting their future and our shared wildlife is a responsibility for us all," said Ms. Yeoh during her visit to the Chengdu Panda Base. "Our aim is to show that each and every one of us can play an active part in reaching a globally shared vision of a future without poverty, inequality or climate change," she added.
UNDP Administrator Helen Clark explained that these pandas symbolize the plight of the world's diminishing wildlife in the face of climate change and the loss of natural habitats, and addressing the loss of biodiversity is one of the Sustainable Development Goals. "We hope the pandas will help inspire people to become aware of these goals, engage with them, and help to implement them in their own country," she said.
The public can nominate names by visiting pandas.undp.org. The winning names will be announced in Chengdu on July 23. Entrants can also win a trip to see the pandas by picking their favourite of the 17 Global Goals and uploading a creative video explaining the Goal, and why it matters.