Chegg, the Student Hub, in partnership with truth, one of the largest and most successful national youth tobacco prevention campaigns, today announced that one U.S. college or high school campus can win a once-in-a-lifetime visit from multi-platinum singer-songwriter & pop sensation, Shawn Mendes.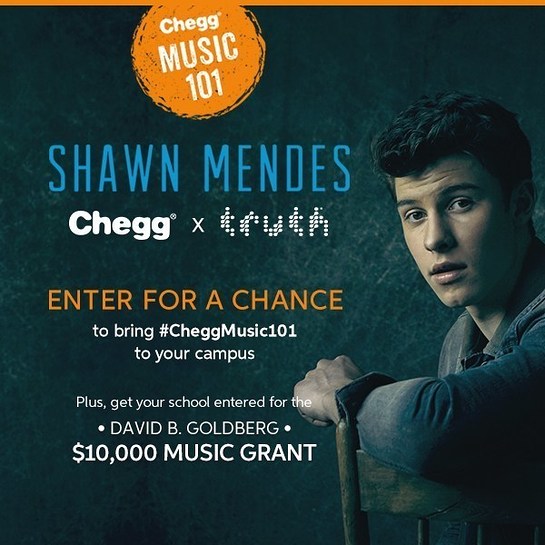 Beginning today, high school and college students can vote for their school to win this on-campus experience through an online contest. The singer-songwriter will take over the classroom with a look into his unconventional rise to fame as an artist gone viral, as well as host an exclusive Q&A with students and perform a few of his biggest hits.
To celebrate the importance of arts in education, Chegg will also award the winning school a $10,000 grant for their music department from Chegg's David B. Goldberg Music Scholarship fund.
"We're so excited to work with Chegg & truth on this campaign. It's so important to us to help foster the role that music plays in education, and we are so thrilled to be able to bring Shawn to a winning school to help that cause," said Andrew Gertler, Manager to Shawn Mendes & Founder of AG Artists.
Students attending high school or college in the contiguous 48 states can begin nominating their campus today for a chance to win the experience. To do so, students simply visit chegg.com/play/Shawn, log in to Chegg, and vote for their school. The school with the most student votes will win the visit from Shawn Mendes. Students can also earn additional votes by downloading Shawn's single, "Treat You Better," watching a video from truth, or downloading the Chegg app if they vote for a college or signing up for Chegg Test Prep if they vote for a high school. The classroom-takeover will take place by December 31st 2016.
"More than 94 percent of smokers start before age 20, which is why it's so important for us to work with partners like Chegg," said Eric Asche, Chief Marketing Officer, Truth Initiative, the organization that funds and directs truth. "While tobacco is still the leading cause of preventable death in the U.S., only 7 percent of teens smoke. That makes ending the death and disease that comes from smoking a realistic goal. We won't get there alone, we need students to bring their passion, creativity and social influence to help us #FinishIt for good."
This #CheggMusic101 is presented by truth. It is the latest in Chegg's ongoing series of music classes brought to students across college and high school campuses nationwide. This season's contest follows successful programs that Chegg has conducted with top-artists including Rachel Platten, Macklemore & Ryan Lewis, Taylor Swift, Ed Sheeran, Imagine Dragons and U2.
"Chegg has partnered with truth and Shawn Mendes because we share a passion for educating students, both in and out of the classroom, and because we think it's important for students to also have some fun while they're learning," said Mitch Spolan, EVP of Brand Partnerships at Chegg. "Chegg Music 101 has succeeded because it engages students in a uniquely enriching and entertaining way that also builds a deeper tie between them and the artists and brands they love."