Volunteers will travel to Canada in July 2017 for Habitat For Humanity's 34th Jimmy & Rosalynn Carter Work Project.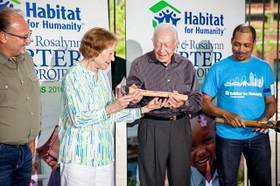 The location was announced during the closing ceremony for the 2016 Carter Work Project in Memphis, Tennessee. More information will be released on Oct. 3, 2016.
Last week, President and Mrs. Carter, Garth Brooks and Trisha Yearwood helped build or improve 35 homes in partnership with Memphis families and 1,500 volunteers. New home construction and several beautification and aging in place projects that took place during the build week helped fulfill Habitat for Humanity of Greater Memphis' commitment to build 50 new homes and revitalize 100 homes in the city's Uptown area.
"We are excited to head to Canada in 2017 with President and Mrs. Carter," said Jonathan Reckford, CEO of Habitat for Humanity International. "Their longstanding commitment to helping families build a better future for themselves has been a blessings to us and continues to inspire people everywhere to help us fulfill our mission."
Since 1984, President and Mrs. Carter have traveled across the U.S. and the world with Habitat, donating their time and voices annually to build and improve homes, and raise awareness of the critical need for decent and affordable housing. Inspiring millions over the last three decades, President and Mrs. Carter have worked alongside nearly 100,000 volunteers in 14 countries to build, renovate and repair homes.
To learn more about Habitat's Carter Work Project, visit habitat.org/cwp.