Prostate Cancer Foundation (PCF), a nonprofit organization which remains steadfast in its commitment to identify and fund groundbreaking cancer research programs to save the lives of millions, hosted its annual gala at the Parrish Art Museum in Water Mill, NY on Saturday, August 27, 2016.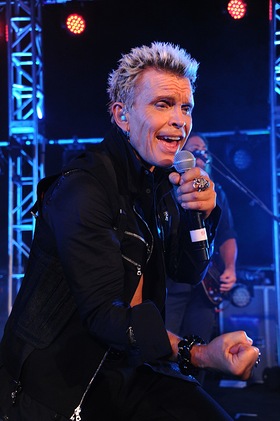 The event's Challenge Research Award raised over $3.5 million in support of the foundation's work.
The gala was hosted in support of the 12th Annual Charles Evans PCF Pro-Am Tennis Tournament being held from August 26 – 28, 2016, named after the successful entrepreneur who constantly turned tragic events throughout his life into philanthropic causes. The gala evening was a wonderful night of dining, dancing and filled with loads of surprises. The event featured special musical performances by Grammy award-winning singer Dianne Reeves, double platinum recording artist Billy Idol, and nationally recognized pop vocal group The Company Men, with a special performance by Francis Collins, Director of National Institutes of Health. 100 percent of the funds raised throughout the evening went to supporting groundbreaking discoveries in cancer research.
The night began with a short quiz by the Founder of the Prostate Cancer Foundation Michael Milken, with guests curiously participating from their seats. Milken then introduced Jan Haber, PCF's Vice President of Events, to the stage. Haber welcomed guests to the event and thanked them for supporting the very important work of the PCF, after which she introduced the evening's first performer to the stage, Grammy-award winning singer Dianne Reeves, who performed a few of her celebrated jazz songs to the delight of the audience.
Reeves' performance was followed by a short speech by Michael Milken on how far PCF has come since its founding, and how much of a difference the foundation's work does. A video was shown highlighting the foundation's progress and its aim to make prostate cancer an illness to "find in the history books". Next, a few words were spoken by PCF's President and Chief Executive Officer, Dr. Jonathan W. Simons. Dr. Simons touched on the progress in gene research and how it has made it possible to identify the drivers behind the disease, in the fight against not only prostate cancer but all types of cancer.
The evening's next performance was held by The Company Men, who performed a Motown medley, consisting of their interpretation of much loved songs by artists such as Simon & Garfunkel and Billy Joel. The vocal group had come all the way from Los Angeles to perform at the event, which they said they were honored to attend and being able to support. Following The Company Men was a surprise performance by the Director of National Institutes of Health, Dr. Francis Collins, who started off mentioning the nationwide cancer study that is currently being conducted in order to understand how to prevent and identify cancer risk factors at an early stage. Dr. Collins encouraged everyone to join in on this "unprecedented adventure", before taking out his guitar for a surprise performance of Del Shannon's "Runaway" in his own version, called "DNA".
A live auction was also held to support a young scientist. Attendees were asked to donate $75,000 per year to support the research of a young scientist and his or her research in the fight toward prostate cancer. This was followed by an appearance by Mitch Modell, who presented the foundation with a check for $141,ooo on behalf of Modell's Sporting Goods and all of its customers.
Michael Milken rounded up the evening's lineup of performances and appearances by extending a heartfelt thank you to all performers, attendees, donors, hosts, pro tennis players and amateurs for making it an unforgettable evening in the support of finding a cure for prostate cancer. To top off the evening, a much anticipated musical performance was held by superstar Billy Idol, who kicked off his performance with crowd favorite "Cradle of Love".
The Weekend's Pro-Am Tennis Champions were: Ricky Sandler and Rick Leach, Alex Norcross and Alex Bogomolov Jr., Dick Merkin and Rohan Bopanna, Bill Finneran and Graydon Oliver. Finalists included: Mark Ein and Scott Lipsky, Marie Bernstein and Santiago Gonzalez, Ralph Finerman and Jonathan Erlich, Sammy Herzberg and Jonathan Schneider.
A silent auction was also held, including select items such as A Getaway to a Private Villa in Bali, sports memorabilia such as a signed plaque and boxing glove of legend Muhammad Ali and a signed Michael Jordan jersey, original photographs of Coco Chanel with model Jackie Rogers, as well as exclusive photographs of icons Prince, Marilyn Monroe, Elizabeth Taylor and Mick Jagger.