On November 12th, 2016, Unlikely Heroes will host the 4th annual Recognizing Heroes Red Carpet Awards Dinner and Charity Benefit, presented by Sumits Yoga Colleyville and sponsored by iHeart Media and KISS FM at the Ritz-Carlton, Dallas, with red carpet arrivals beginning at 5pm.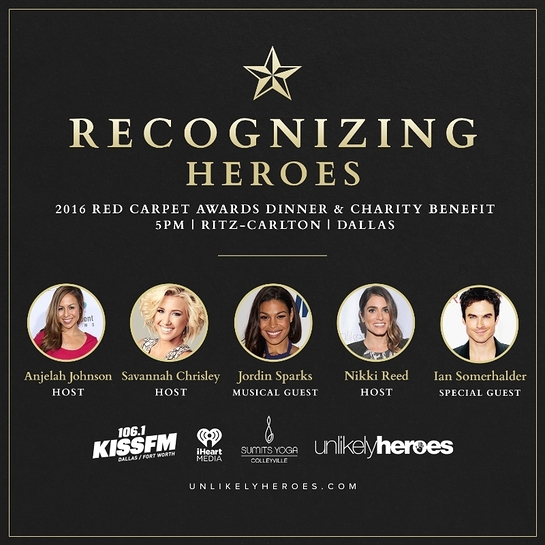 Featuring a live musical performance by multi-platinum recording artist Jordin Sparks, this Red Carpet Charity Benefit will be hosted by award winning actress Nikki Reed (Twilight Saga), critically-acclaimed comedian Anjelah Johnson (MADtv) and Savannah Chrisley (Chrisley Knows Best). Including special guests Ian Somerhalder (Vampire Diaries), Kenyon and Katie Coleman (NFL, former Dallas Cowboys), Rebecca Bender (Survivor Advocate) and keynote speaker: Shaun Alexander (NFL, former Seattle Seahawks). This special Red Carpet Charity Benefit will draw more than 400 celebrities, influencers, philanthropists, media, affluent business leaders and prominent members from the Dallas/Ft. Worth community to end slavery and celebrate freedom.
This year, Hero Award winners include: Shaun and Val Alexander (NFL, former Seattle Seahawks), Robert Smith and Hope Dworaczyk-Smith (CEO, Vista Equity Partners), Ana Reyes (Williams and Connolly LLP), Dee Martin (Bracewell Law), Salo Zelermyer (Bracewell Law) and Rebekah Charleston (Survivor Advocate).
Unlikely Heroes rescues and restores children from a life of slavery worldwide. Unlikely Heroes has 5 restoration homes for rescued kids located in the Philippines, Thailand, Mexico and in the USA in Dallas, Texas. In the past, Unlikely Heroes events have attracted Hollywood support, influential leaders and international media attention. Celebrity supporters, hosts and past gala performers include: Selena Gomez, Kellan Lutz, Babyface, Andra Day, Jesse McCartney, Chris Gorham, JoJo, Ledisi, and many others.
Human trafficking is "the recruitment, transport, transfer, harboring or receipt of a person by such means as threat or use of force or other forms of coercion, of abduction, or fraud or deception for the purpose of exploitation." But it also has another name: modern day slavery. There are more slaves in the world today than at any other time in human history. The most conservative figures available suggest that more than one million children are involved in the sex trade each year, but experts say the true number could be five times that or more. Additionally, profits from slavery exceed $32 billion annually. This is not just a problem of the developing world: it is a global crisis, and includes the United States. In fact, conservative numbers estimate that there are more than 100,000 children sold for sex in the U.S. each year.
For more information on what you can do to help, as well as details about the Unlikely Heroes Recognizing Heroes Red Carpet Benefit, please visit: www.UnlikelyHeroes.com.