The Humane Society of the United States honored fashion industry leader HUGO BOSS and acclaimed philanthropist Georgina Bloomberg last week at the 2016 To the Rescue! New York gala at Cipriani 42nd Street.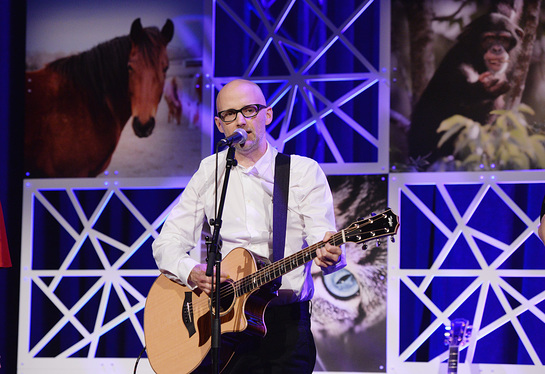 The evening raised more than $1.7 million for the organization's animal rescue efforts, rescuing thousands of animals from cruelty and neglect each year. The evening was hosted by actor and comedian Mario Cantone.
The HSUS honored HUGO BOSS with the Corporate Consciousness Award in recognition of the company's commitment to humane alternatives and sustainable business strategies. Zachary Quinto presented the honor to HUGO BOSS Chief Brand Officer Ingo Wilts, who accepted on behalf of the company.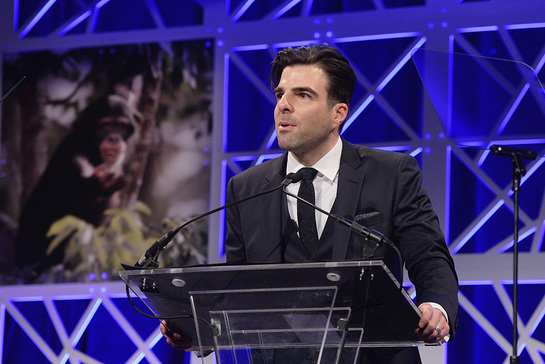 "HUGO BOSS has always been at the forefront, exploring new ideas and technologies and finding forward-thinking solutions for our industry. With our decision to go fur-free, we've anchored animal welfare as a fixture within our product sustainability program," Wilts said in his acceptance speech.
Bloomberg's good friend Lorenzo Borghese presented her with the Compassion in Action Award for her tireless work to protect all animals. Bloomberg thanked many people, including Amanda Hearst for starting the Friends of Finn and getting her involved with The HSUS, as well as her mother and father, former mayor Michael Bloomberg, who were sitting at her table.
"I want to thank my father for not disowning us every time we brought a new pet home. We had a ritual of every time we brought a new pet home, putting it in the bathroom near our kitchen, and whenever my father would come home from work, his first stop was the bathroom near our kitchen. He would open the door and see whatever pet we had brought home, and coincidentally, that was when I learned my first swear word," Bloomberg said to a room full of laughs.
Moby rounded out the evening with performances of his hits "Troubles So Hard" and "Why Does My Heart Feel So Bad," as well as lively covers of Johnny Cash's "Ring of Fire" and Led Zeppelin's "Whole Lotta Love," where he encouraged the audience to sing along.
This year's gala was co-chaired by Amanda Hearst and Steve Read. Additional attending supporters included Gayle King, Jason Biggs, Jenny Mollen, Arden Wohl and Lauren Blumenfeld.
More than 550 guests enjoyed a three-course vegan meal prepared by Candle 79 and Cipriani, a live auction and entertainment.
The 2016 Leadership Committee included Ian Bass, Howard and Wendy Berk, Gale Epstein, Jennifer Faga, Janie Greenspun Gale, Linda Goddard, Cathy Kangas, Stacey and Don Kivowitz, Jennifer Laue, Mary and Peter Max, Patrick McDonnell and Karen O'Connell, Judy Ney, Paige Rense Noland, Christine and Edwin Ordway, Lida Orzeck, Marian Probst, Debra Shore and Suzy Welch.
The Friends of Finn Committee included Georgina Bloomberg, Tripp Callan, Anthony Cummings, Amanda Hearst, Michael Katz, Steve Read, Breanna Schultz, Courtney Stroum Meagher, Katie Sturino. Advisory Committee: Morgan Bogle, Lorenzo Borghese, Stephanie Riggio Bulger, Liz Dee, Dylan Lauren, Sarah Read and Kelly Vitko,
This year's gala was sponsored by Moroccanoil. The event was produced in partnership with Celebrity Event Planner Liron David of Eventique.