Birds Eye frozen vegetables continues its partnership with Environmental Media Association's (EMA) "#Greenmyschool" program with a garden planting by Constance Zimmer with students from schools in Santa Ana, Calif.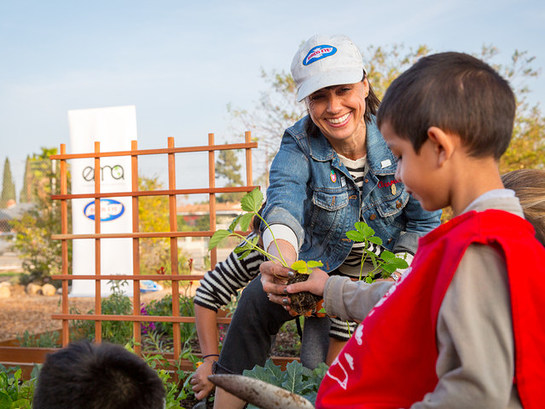 "#Greenmyschool is a really special program for EMA. As a mom, who actually has an edible garden in my home, I understand first hand how much that has motivated my daughter to be excited to eat veggies. And as a long time EMA Board member, expanding #Greenmyschool with the support of Birds Eye will give us the opportunity to share our passion and really help change the game by bringing plant-based nutrition, agriculture and the importance of eating vegetables to students around the country," said Zimmer.
Birds Eye, part of the portfolio of Pinnacle Foods, aims to instill the importance of eating vegetables among students and their families at the schools in which the gardens are created.
Through the partnership with EMA, celebrities visit their hometowns around the country, and work with students to plant and cultivate a community garden. Students learn the importance of plant-based nutrition, basics of agriculture and receive tips and information from the educators working with the program.
"Currently, nine out of 10 Americans are not eating the recommended amount of vegetables," said Mike Barkley, executive vice president and chief marketing officer for Pinnacle Foods. "With each garden we help plant, we are working toward our goal of getting more people to eat more vegetables, every day. We're excited that our partnership with EMA is bringing that message to students across the country."
Zimmer, an actress (best known for her roles on HBO's Entourage, ABC's Boston Legal, and her Emmy-nominated role on Lifetime's UnREAL) is a long-time supporter of the Environmental Media Association and a member of its Board of Directors.
EMA began the "#Greenmyschool" program in 2009. With the support of Birds Eye, the program is reaching more students. Most-recently, EMA and Birds Eye planted a garden at the Mississippi elementary school of Lance Bass.
"We are thrilled to partner with Birds Eye to grow our school garden program, #Greenmyschool and ensure more children have the opportunity to understand and connect harvesting vegetables and herbs with the food they eat!" said Debbie Levin, president, Environmental Media Association. "It's been so gratifying to watch the excitement and joy the kids get when they plant a seed that can turn into a pure, healthy and delicious meal. Bringing that passion into their homes informs eating habits for a lifetime. And of course, sharing this now with our EMA Parent Committee Chair and vocal advocate of this program, Constance Zimmer helps expand our message."