On the heels of his headlining performance as the 2016 "Rocker of the Year" at the annual Little Kids Rock Benefit in New York City, Smokey Robinson will be giving students at Pio Pico Middle School in the Los Angeles Unified School District (LAUSD) a million reasons to make beautiful music.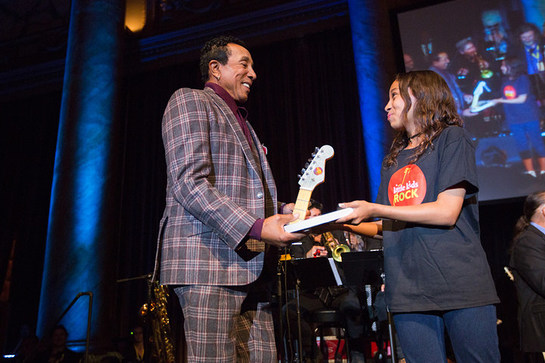 On January 18, Robinson will make a special appearance to hear a new generation's take on his timeless tunes, deliver brand new instruments, and present a $1 million check donated by Niagara Cares to support Little Kids Rock's mission of transforming lives by restoring, expanding and innovating music education in public schools.
"Little Kids Rock is such a great organization for supporting the effort for getting our kids in the arts in schools," Robinson said. "We need to support our kids in as many positive areas as we possibly can. We are not only talking about the future of music; we are talking about the future of our country. We are talking about the future; our future period."
Robinson's performance at the sold-out benefit last October not only brought the crowd to its feet but also helped raise $1.1 million to establish youth-centered, culturally relevant music education in schools across the United States. Inspired by Little Kids Rock's progressive approach, Robinson will second that emotion by presenting a check to the organization for an additional $1 million, on behalf of Niagara Cares, a philanthropic arm of Niagara Bottling that supports initiatives serving children and families in need.
Little Kids Rock partnered with the LAUSD in 2004 and has since distributed more than 7,000 instruments and curricular resources worth more than $2 million. To symbolize the investment that will bring the program to tens of thousands of additional children, Robinson will unveil a surprise of brand new instruments to the school. The nonprofit will then donate instruments and expand the program to 30 more LAUSD schools on Saturday, January 28 at Little Kids Rock's Modern Band Workshop.