Prince Harry visited Nottingham last week to see the work of Full Effect and Coach Core, two projects supported by The Royal Foundation that work to improve opportunities for young people.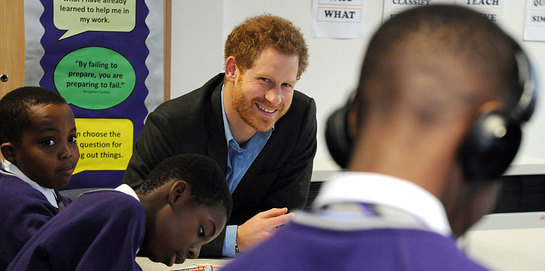 The Prince visited both programmes during a visit to the city in October 2016, and returned to see a new strand of Full Effect's work, which provides support and mentoring to secondary school students. Prince Harry also attended the graduation ceremony of the cohort of Nottingham Coach Core apprentices, many of whom he met at the National Ice Centre during his last visit.
Established in 2014, Full Effect has been supporting young people in the St Ann's area of Nottingham through a combination of early intervention, mentoring and education. Over the last three years, Full Effect resilience workers and mentors have been providing a group of 'at risk' primary-aged children with intensive support both in school and through diversionary activities in the community.
Prince Harry joined a music and sports session at Nottingham Academy, meeting a number of students benefiting from the Full Effect programme, and heard first-hand from staff about the positive impact it is having on the local school communities.
His Royal Highness then travelled to the city centre to present Coach Core apprentices with their graduation certificates at a ceremony held at Nottingham Council House. Created by the Royal Foundation in 2012 as part of the Olympic Legacy programme, the Coach Core model – a year's apprenticeship – trains 16–24 year olds who are not in education, employment or training to become professional sports coaches in their communities. In turn, the apprentices are able to motivate and inspire other young people through sport.
Following the Coach Core graduation, Prince Harry watched extract performances from the Full Effect creative project 'Look Sharp: The Barbershop', along with other performances. Full Effect also engages and mentors older young people at the Community Recording Studio based at The Russell Youth Centre in St Ann's, helping them to acquire work-relevant skills, experience and qualifications.
Source: Royal.UK