On May 5, Legacy Recordings (a division of Sony Music Entertainment) will release Cover Stories: Brandi Carlile Celebrates 10 Years of The Story – An Album to Benefit War Child.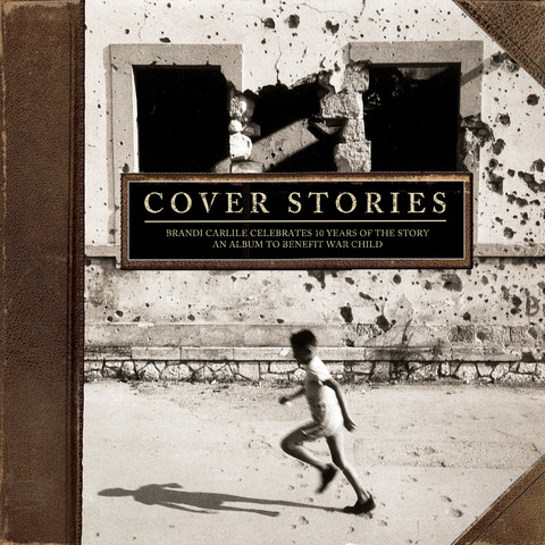 This historic collection features newly recorded versions of all fourteen songs from Carlile's breakthrough T Bone Burnett-produced 2007 album The Story, which just last month was certified Gold by the RIAA. Adele, The Avett Brothers, Kris Kristofferson, Dolly Parton, Pearl Jam, and Margo Price are among the artists and activists lending their voices to celebrate the album's 10th anniversary, and Barack Obama will provide a foreword. All proceeds from the album will benefit War Child UK, an organization dedicated to supporting children affected by conflict. Carlile's nonprofit, the Looking Out Foundation, launched the Story Campaign last year to raise awareness and funds for War Child UK.
Today, Rolling Stone has premiered Dolly Parton's new version of the original album's title track "The Story," listen here.
Cover Stories is being offered in 1CD, 2LP and digital configurations and is available for pre-order now via the following:
Official artist pre-order
"This is a David and Goliath story," says Carlile. "Since becoming a mother, the reality of a child's beautiful life being torn apart by war felt like too big of a problem for me. So I asked my heroes and friends to help me launch a rock at the giant that is our refugee crisis and help in the only way we know how, through the power of music." She adds, "It's not how hard you can throw, it's how high you're willing to aim."
Cover Stories was recorded mostly over a series of sessions in 2016 (with the exception of Adele's take on "Hiding My Heart" which was originally released as a bonus track to her 2011 album 21, and Ruby Amanfu's "Shadow on the Wall," originally released in 2015), with many special guests contributing to the already star-studded lineup. Chris Stapleton adds guitar to Kris Kristofferson's take on "Turpentine," and Miranda Lambert lends backing vocals to Anderson East's "Josephine." Dave Cobb produced tracks by Kristofferson, Parton, and Price; Patrick Carney of The Black Keys produced Ruby Amanfu; Carlile and longtime bandmates The Twins (Tim and Phil Hanseroth) produced the Secret Sisters and TORRES.
Carlile and The Twins have confirmed a run of special tour dates to celebrate the release of Cover Stories called An Acoustic Evening with Brandi Carlile Performing The Story in Its Entirety and More. The nine-date run kicks off April 21 and shows in Birmingham, Athens, Austin + Los Angeles are already sold out. See below for a full list of dates.
Reflecting on The Story's 10th anniversary Carlile says, "This album defined our band and welded The Twins and me to one another forever. It's been a transformative experience to revisit it 10 years later and watch it become something bigger than me. To hear the songs through the voices of my heroes is both surreal and humbling."
Catherine Carlile, Executive Director of the Looking Out Foundation, emphasizes the importance of artists using their platform to amplify the voices of children in war. "When powerful artists come together and lend their voices to a cause, they deliver an indelible message. Today's headlines will soon be yesterday's news, but music endures and transcends and the story lives on."
Rob Williams, CEO of War Child UK says, "War Child has a strong and enduring story of harnessing the power of music to support children forced to live with the brutality of war. This fantastic album will help fund our vital work – from supporting Syrian children to access education, to reintegrating child soldiers in the Central African Republic and working in juvenile justice in Afghanistan."
Cover Stories: Brandi Carlile Celebrates Ten Years of The Story – An Album to Benefit War Child tracklisting:
1 Late Morning Lullaby – Shovels & Rope
2 The Story – Dolly Parton
3 Turpentine – Kris Kristofferson
4 My Song – Old Crow Medicine Show
5 Wasted – Jim James
6 Have You Ever – The Avett Brothers
7 Josephine – Anderson East
8 Losing Heart – Secret Sisters
9 Cannonball – Indigo Girls
10 Until I Die – TORRES
11 Downpour – Margo Price
12 Shadow On The Wall – Ruby Amanfu
13 Again Today – Pearl Jam
14 Hiding My Heart – Adele
An Acoustic Evening with Brandi Carlile Performing The Story in Its Entirety and More
April 21 – Birmingham, AL – Lyric Theatre – SOLD OUT
April 22 – Athens, GA – Georgia Theatre – SOLD OUT
April 24 – Nashville, TN – Ryman Auditorium
April 25 – Nashville, TN – Ryman Auditorium
April 28 – Houston, TX – Cullen Performance Hall
April 29 – Austin, TX – ACL Live at Moody Theatre – SOLD OUT
April 30 – Dallas, TX – The Majestic Theater
May 5 – Los Angeles, CA – John Anson Ford Amphitheatre – SOLD OUT
May 6 – San Francisco, CA – The Masonic
For more information on Cover Stories go to: www.coverstoriesalbum.com.