In celebration of the upcoming opening of The James West Hollywood-Sunset, The James Hotels has partnered with the David Lynch Foundation and Dazed Media to create the short film "A New Sunrise Over Sunset".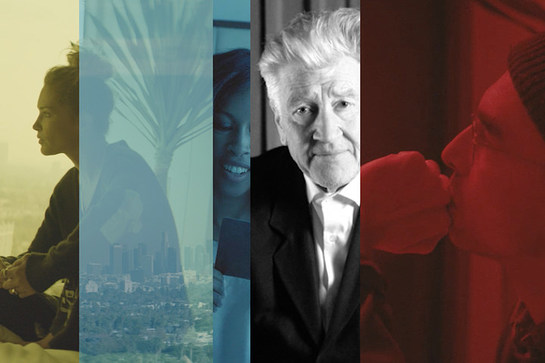 Directed by Shaniqwa Jarvis the film offers a first look inside The James West Hollywood – Sunset, featuring prominent David Lynch Foundation supporters and LA insiders: model and jewelry designer Erin Wasson, vocalist Nia Andrews, artist and clothing designer Cali DeWitt, Grammy-Award winning singer James Fauntleroy, 2016's Best New Chef by Food & Wine, Kris Yenbamroong, and multidisciplinary visual artist, Brendan Fowler.
Inspired by the contemporary culture of Los Angeles, "A New Sunrise Over Sunset" is broken into three themed vignettes titled "Connection", "Consciousness" and "Community" after The James' three core brand pillars, which invoke emotion through subliminal storytelling utilizing color and sound. The film radiates both visual and sonic references to the work of David Lynch and the Foundation.
The James' found a natural partner in the David Lynch Foundation with their close ties to the Los Angeles community and the shared goal of bringing people mindful, restorative experiences. Award-winning director David Lynch, best known for Twin Peaks, discovered meditation in 1973 and has been practicing it daily ever since. In 2005 David founded the David Lynch Foundation to bring meditation to people around the globe.
"The film bridges Los Angeles culture with mindfulness through the perspective of locals who have deep understandings of well-being in their lives," said David Lynch. "This partnership empowers us to bring the practice of meditation to a new audience of people."
In celebration of the partnership with the David Lynch Foundation, who works to bring 'pure consciousness' to children and adults around the world through transcendental meditation methods, The James West Hollywood – Sunset will donate $10 from every single booking made at the hotel through jameshotels.com, from now until the property opening on May 1st, 2017. Guests will be able to make an optional donation to any future reservation at any James hotel starting in May.
"The James Hotels and the David Lynch Foundation share the goal of bringing mindfully modern experiences into people's lives," said Carl Cohen, Chief Experience Officer at Denihan Hospitality Group. "We are proud to support this cause while simultaneously elevating the minds and bodies of our guests."
To view the film and to learn more visit jameshotels.com/dlf.