The Breast Cancer Research Foundation (BCRF) held its annual Symposium and Awards Luncheon yesterday, at the New York Hilton Midtown.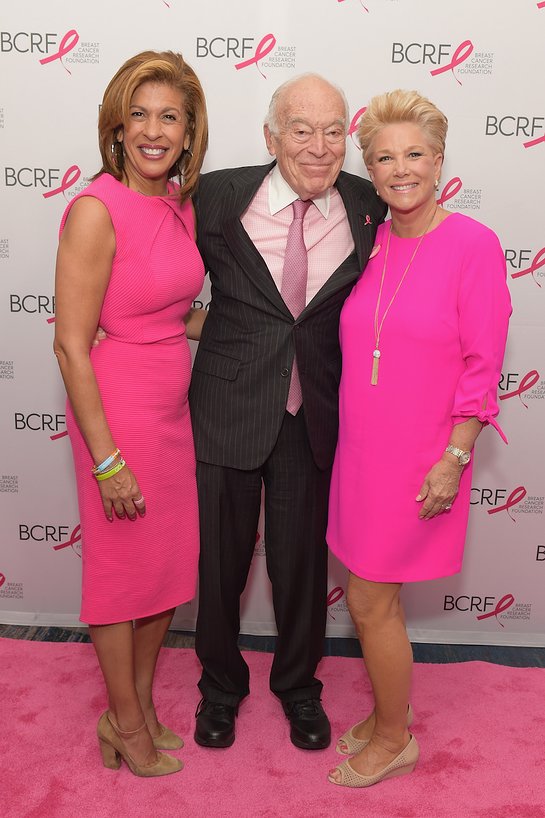 The much-anticipated event honored BCRF-funded investigators who are devoted to ending breast cancer through groundbreaking research. The Luncheon also served as the formal announcement of $59.5 million in research grants that was awarded to more than 275 scientists, many of whom were in attendance.
Hosted by TODAY Show co-host and breast cancer survivor Hoda Kotb, this year's luncheon honored Jeanne Sorensen Siegel and Herbert J. Siegel with the Sandra Taub Humanitarian Award, presented by Jessica Bibliowicz. The Jill Rose Award was given to Nancy E. Davidson, MD, Fred Hutchinson Cancer Research Center, for her trailblazing research on epigenetics and resistance to hormone therapies in breast cancer, presented by Myra Bibliowit, President & CEO of BCRF, and BCRF Researcher, Gabriel Hortobagyi, MD.
The day began with a symposium discussion, "Conquering Cancer: Breast Cancer and Beyond," moderated by Judy E. Garber, MD, MPH, of Dana-Farber Cancer Institute and Chair of the BCRF Scientific Advisory Board, and the panelists included Nancy E. Davidson, MD; Jedd Wolchok, MD, PHD, of Memorial Sloan Kettering Cancer Center; and, Antonio Wolff, MD, of Memorial Sloan Kettering Cancer Center.
Symposium Honorary Co-Chairs include Kinga Lampert, Leonard A. Lauder, William P. Lauder and Rita Wilson. Event Co-Chairs include Roberta M. Amon, Anne H. Bass, Clarissa Alcock Bronfman, Amy Goldman Fowler, Marjorie Reed Gordon, Betsy S. Green, Dee Ocleppo Hilfiger, Gail Hilson, Aerin Lauder, Marigay McKee, Wendi Rose, Arlene Taub and Simone Winston. Notable guests included Rachel Bay Jones, Francesca Curran, Nina Garcia, Bruce and Leslie Gifford,Kimiko Glenn, Sandra Lee, Nastia Liukin, Joan Lunden, Gary Muto, Emma Myles, Orfeh, Lela Rose and Nina Runsdorf.
Underwriters of the event include ANN INC., Jody and John Arhnold, Amy P. Goldman Foundation, Roslyn and Leslie Goldstein, Kinga Lampert, Leonard & Judy Lauder Fund, Lifetime, Jeanne Sorensen Siegel and Herbert J. Siegel, Tough Enough to Wear Pink and Winston Flowers.