The Television Academy Foundation raised a record breaking $330,000 at the star-studded 18th Annual Emmys Golf Classic on October 30.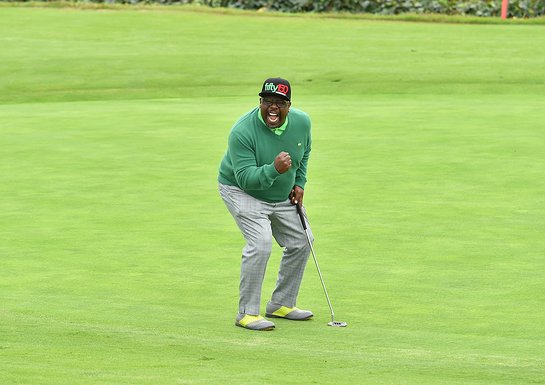 Funds raised at the event, co-sponsored by STAPLES Center Premium Seating, will support the Foundation's renowned educational programs.
Television stars, entertainment industry executives, Television Academy leadership and corporate partners competed in the day-long golf tournament at the Wilshire Country Club in Los Angeles.
Hosted by Cedric the Entertainer (The Comedy Get Down, The Last OG), the star-studded event included competitors from some of television's top shows: Joe Mantegna (Criminal Minds), Peter Mackenzie (black-ish), Benito Martinez (How to Get Away with Murder), Richard Kind (The Goldbergs), Bailey Chase (Twin Peaks), Robbie Amell (The X-Files), Adam Rodriguez (Criminal Minds), Carlos Bernard (24:Legacy), Joel Gretsch (Vampire Diaries), Jeff Nordling (Big Little Lies), Daniel Henney (Criminal Minds), Rocky Carroll (NCIS), C.S. Lee (Silicon Valley), Pat Finn (The Middle), Dave Annable (Yellowstone), Peter Weller (The Last Ship), Matt Craven (Sharp Objects), Ron Pearlman (Final Space), Gregory Harrison (Chesapeake Shores), Kate Linder (The Young and the Restless), Paula Trickey (Running Away), Adam Baldwin (The Last Ship), and Philip Boyd (The Haves and the Have Nots) plus pro golfer Andia Winslow.
The tournament kicked off with "on the green" carpet arrivals, followed by a putting contest, full round of golf, and an afternoon cocktail reception. The day concluded with an awards dinner where honors were presented, including:
• Grand Prize Low Net Winner: Foundation Auction team led by celebrity Paula Trickey.
• 2nd Place Low Net: Team Staples #1 with celebrity Adam Baldwin
• 3rd Place Low Net: Team Staples #3 with celebrity Robbie Amell
• 1st Place Gross: Johnny Carson Foundation team with celebrity Matt Craven
Established in 1959 as the charitable arm of the Television Academy, the Television Academy Foundation is dedicated to preserving the legacy of television while educating and inspiring those who will shape its future. Through renowned educational and outreach programs, such as The Interviews: An Oral History of Television, College Television Awards and Internship Program, the Foundation seeks to widen the circle of voices our industry represents and to create more opportunity for television to reflect all of society. For more information on the Foundation, visit TelevisionAcademy.com/Foundation.