SAG-AFTRA and the Geena Davis Institute partnered to present Power of Portrayal: Inspiring Performances Driving Social Change, a panel led by a diverse group of performers and athletes who are paving the way to social change with their roles in film, TV, on stage and off the court.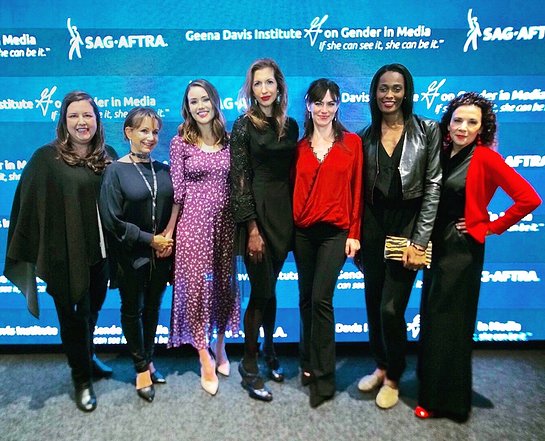 The event took place Monday, November 6 at the SAG-AFTRA Foundation Robin Williams Center.
Panelists included SAG-AFTRA President Gabrielle Carteris, Women's National Basketball Association (WNBA) star Swin Cash, actor and activist Alysia Reiner (Orange Is the New Black), actor/producer Maggie Siff (Sons of Anarchy), and actor Megan Boone (The Blackist) who discussed the importance of representation and how they have come to reach success in their field. Madeline Di Nonno, CEO of the Geena Davis Institute, moderated the panel.
"I am very proud of SAG-AFTRA's partnership with the Geena Davis Institute. It was an honor to participate on a panel of such talented and socially aware women whose success in their fields have been used so effectively," said SAG-AFTRA President Gabrielle Carteris. Representation matters now more than ever and this partnership is another step towards shining a light on the work that women do on and off the screen."
Said Madeline Di Nonno, "The Geena Davis Institute's mission is to work on diversifying the media landscape through cutting edge research, education and engagement. Panels like these give young women the opportunity to see it is possible to break barriers and reach their goals. We look forward to partnering with SAG-AFTRA on additional events."
The panel was part of the See Jane salons developed by the Geena Davis Institute to discuss issues pertinent to women and their work fields.