Ahead of #HIVTestWeek, Prince Harry opened the Terrence Higgins Trust pop-up shop in Hackney.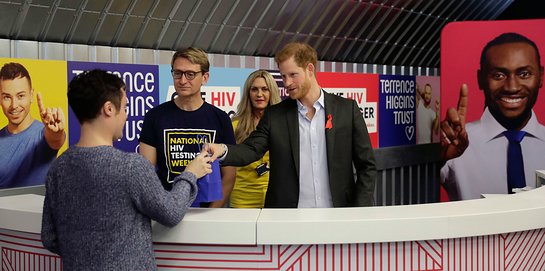 The pop-up is giving out free HIV self-testing kits for the next 10 days. One of the THT volunteers did a live demonstration for HRH – which showed him how quick and easy the tests are to use.
The pop-up is equipped with iPads were visitors can sign in using their phone number. They can then collect an HIV testing kit for free.
Prince Harry also spoke to THT volunteer, Andrew Bates, who was diagnosed with HIV two years ago. He said he initially felt shame about his diagnosis, but since taking medication and he now lives a happy, healthy life. Andrew wants to use his experience to help others this #HIVTestWeek, telling HRH, "I can be an advocate for HIV positive people, and show the world that life doesn't end after getting an HIV diagnosis."
Prince Harry then gave out HIV self-test kits to local residents and officially opening the Terrence Higgins Trust HIV testing pop-up shop to the public.
For more information on #HIVTestingWeek, click here.
Source: Royal.UK