The Lupus Research Alliance celebrated the 2017 Breaking through Lupus Gala to shed a spotlight on breakthroughs from the previous years, and the importance of lupus research to deliver discoveries to come.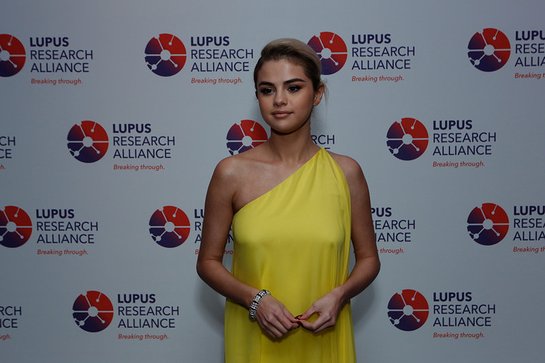 With the generous support of nearly 700 attendees, the landmark event raised over $3.2 million – with every dollar going directly to fund lupus research programs.
Major supporter, NBCUniversal CEO Steve Burke was recognized for his strong dedication to corporate responsibility and innovation. The 2017 Gala honoree commented, "NBCUniversal is honored to support those affected by lupus worldwide with a contribution of $1 million to fund the best in scientific study through the Lupus Research Alliance."
One of the most influential performers worldwide, Selena Gomez joined the Lupus Research Alliance celebration to share her story for the first time directly with the lupus community and the organization she kindly supports. Ms. Gomez flew straight to the Gala from her triumphant return to the stage at the American Music Awards in Los Angeles the previous evening.
"I am supporting the Lupus Research Alliance because they are getting results, and that's what gives people with lupus the most hope," said Ms. Gomez. "I'd like to see the day when all young women can realize their dreams of a life without lupus."
Ms. Gomez and The Honorable Michael Bloomberg served as Honorary Co-Chairs of the Lupus Research Alliance Gala, the largest single lupus fundraiser in the world.
NBCUniversal held a starring role for the night with several of Mr. Burke's colleagues serving as Gala co-chairs: Brian Roberts, Chairman and CEO, Comcast Corporation; Ron Meyer, Vice Chairman, NBCUniversal and Lorne Michaels, Creator and Executive Producer, Saturday Night Live. In addition, Seth Meyers, host of NBC-TV Late Night, emceed, delighting guests with his signature sharp humor. Lupus Research Alliance Co-Chairmen Ira Akselrad, President, The Johnson Company and Richard K. DeScherer, Chief Legal & Compliance Officer, Bloomberg L.P. also co-hosted the evening.
The Gala also honored Lupus Research Alliance Immediate Past Co-President and Co-CEO Margaret G. Dowd for over 20 years of impassioned dedication to advancing lupus research. Mr. DeScherer noted, "Peggy was one of America's pioneers in novel lupus research, not as a scientist but as an inspirational spark, fostering talent and embracing innovation."
Having just earned rave reviews as the lead in Brigadoon, Tony-award winning Kelli O'Hara brought new life to such Broadway favorites as I Could Have Danced All Night and I Have Dreamed. She noted a personal connection to lupus and sang You'll Never Walk Alone as a reminder that working together, "you're never alone".
Adding to the excitement, New York's iconic Empire State Building lit up purple and red to help the Lupus Research Alliance raise awareness of the disease and the importance of scientific research.