Here's your chance to live under Stephen Colbert's desk with Jon Stewart during a taping of The Late Show.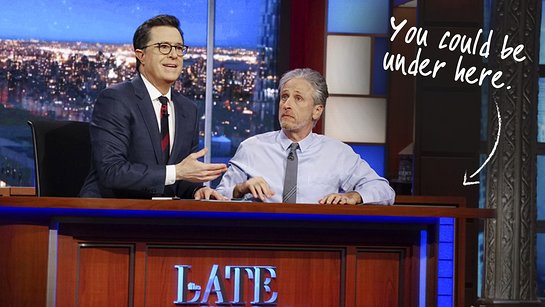 Fun fact: Jon Stewart has been living under Stephen Colbert's desk since his departure from The Daily Show. More fun fact: You're joining him there for the most cramped and hilarious time of your life! Forget behind the scenes, because you're going underneath the scenes for a truly inside look at The Late Show with Stephen Colbert. You'll meet Stephen, hang out with Jon under the desk for a segment, ask that night's guest a question and deliver one epic punchline that's sure to bring down the house. And since Jon gets to tag along on Stephen's show, you'll also get to bring a friend of your own to cheer you on from VIP seats. Flights, hotel and nonstop laughs included.
To be in to win this once-in-a-lifetime opportunity, all you have to do is donate to NEXT for Autism through omaze.com. The more you donate, the more chances you have to win.
NEXT for AUTISM is a nonprofit organization that transforms the national landscape of services for people with autism by strategically designing, launching and supporting innovative programs. They believe that individuals with autism have the potential to live fulfilling, productive lives when supported by excellent services and connected to their communities. While many organizations engage in advocacy or fund scientific research, NEXT For AUTISM addresses the needs of people with autism and their families across the country right now. They create and support exceptional educational, clinical and vocational programs, all cutting-edge, all with an eye towards affecting fundamental shifts in current approaches to autism services. Autism now affects an estimated 1 in 68 American children. The need for support far exceeds the current services available. With your donation, NEXT for AUTISM can continue to address the needs of individuals and families living with autism right now.