The fourth annual amfAR Gala Hong Kong took place last month.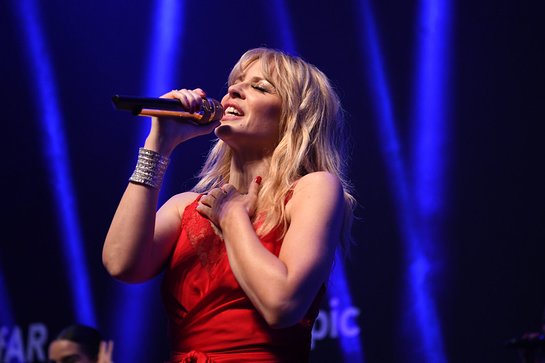 Michelle Yeoh, Liam Hemsworth, Alessandra Ambrosio, Shanina Shaik, Kylie Minogue, Tove Lo, Siwon, and Jeff Koons were among those who gathered at the fourth annual amfAR Gala Hong Kong at Shaw Studios to honor world-renowned artist KAWS and philanthropist Cathy Lee for their commitment to the fight against AIDS.
Pansy Ho, a leading supporter of the gala since its inception in 2015 and an influential figure in the Hong Kong and international business community, served as Honorary Chair of this year's event. The event, presented by AMTD Group and AMTD Foundation, raised nearly $3 million for amfAR's life-saving AIDS research programs. AMTD Group's Chairman and CEO Calvin Choi served as a Co-Chair of the event. American Express, Lorraine Schwartz Fine Jewellery, MGM China Holdings Limited, and Champagne Perrier-Jouët were Signature Sponsors.
Other guests in attendance included Woo-Sung Jung, Lorraine Schwartz, Ofira Sandberg, Achille Boroli, Guy Bradley, Wong Hong, Susanna Lee, Wu Chun, Brian Li, Paulo and Sonia Cheng, Stanley and Jacqueline Sun, Alan and Michelle Cheng-Chan, James and Jane Louey, Winnie Chiu, Veronica Chou, Claudine Ying, Victoria Tang-Owen, Edward Tang, Anna Hu, Poyd, Natasha Lau, Bryan Yambao, Susie Lau, Harris Chan, Francis Cheng, Gary Tigges, and Rosamund Kwan.
amfAR ambassador Michelle Yeoh opened the evening by welcoming guests and introducing amfAR CEO Kevin Robert Frost, who thanked event sponsors and spoke about amfAR's TREAT Asia program and the organization's Countdown to a Cure initiative, which is dedicated to developing the scientific basis of a cure by 2020.
Liam Hemsworth presented the amfAR Award of Courage to Cathy Lee. He thanked her for the time, energy, and resources she has devoted to children affected by HIV/AIDS in mainland China, "combatting stigma and bringing them the promise of a brighter future." Cathy Lee spoke about her work with AIDS orphans in rural Chinese villages, and remarked that AIDS is "still clouded with ignorance and misunderstanding." In a powerful example, she introduced a group of people onstage who currently live with the "appalling prejudice and stigma attached to AIDS" every day. Lee advocated for research and understanding as the most effective means to ending the epidemic.
Simon de Pury presented the amfAR Award of Courage to KAWS, remarking on his "versatility as an artist, as well as his underlying wit, irreverence, and affection for our times." He thanked KAWS for being "a generous supporter of amfAR and the fight against AIDS," as his art donations have raised funds for lifesaving research through amfAR's live auctions. KAWS said he was honored to be a part of a cause that is making a positive difference.
The evening also featured spectacular live performances. Grammy Award-nominated singer and songwriter Tove Lo had the crowd dancing with her global hit singles "Talking Bodies" and "Habits." At the end of the evening, Liam Hemsworth introduced Grammy-winning pop sensation and long-time amfAR supporter Kylie Minogue, who sang chart-topping classics such as "Can't Get You Out of My Head" and new hits such as "Dancing," that had the audience on their feet.
Guests enjoyed bidding on exclusive items during the live auction, conducted by Simon de Pury and Shally Lin. Highlights included:
• CHUM, an original painting by event honoree KAWS, sold in the live auction for $500,000.
• Forty editions of a Christopher Makos photograph of Andy Warhol at the Great Wall of China sold for $5,000 each, raising a total of $200,000.
• A portfolio of ten Andy Warhol lithographs, signed by the artist and Mick Jagger, sold for $70,000.
• Auctioneer Simon de Pury gave a toast to Champagne Perrier-Jouët prior to starting the bidding on a trip for two to Paris and Epernay, featuring an exclusive private tour and champagne tasting at Maison Perrier-Jouët which sold for $60,000.
• A pair of stunning Lorraine Schwartz diamond angel wing earrings, presented by Alessandra Ambrosio and Shanina Shaik sold for $90,000.
• Three Dreams, a large-scale mixed-media work on canvas by American contemporary artist Brittney Palmer, sold for $38,000.
A once in a lifetime European travel experience sold for $50,000. The package includes tickets to both the amfAR Gala Milano and Prince Albert II of Monaco's Gala in Monte Carlo, luxury accommodations, and a three-day stay in Piedmont, Italy for a truffle and wine experience featuring Boroli Barolo wine.
Event Co-Chairs included Achille Boroli, Guy Bradley, Frank Cancelloni, Winnie Chiu, Calvin Choi, Milutin Gatsby, Wong Hong, Jeff Koons, Emily Lam-Ho, Susanna Lee, Jim Murren, Emmanuel Perrotin, Dee Poon, Lorraine Schwartz, Victoria Tang-Owen, Chris Owen, Michelle Yeoh, and Yvette Yung.
The Upper House−Swire Hotels was the event's Hospitality Partner. Delta Air Lines is the Official Airline of amfAR. amfAR Gala Hong Kong is produced by Andrew Boose/AAB Productions and Josh Wood/Josh Wood Productions.