Bright lights and cameras will be out in force at the 13th Annual Denim, Diamonds & Stars, a red-carpet evening to raise funds for ACT Today!, the nation's leading autism nonprofit organization providing help and support to children with autism and their families.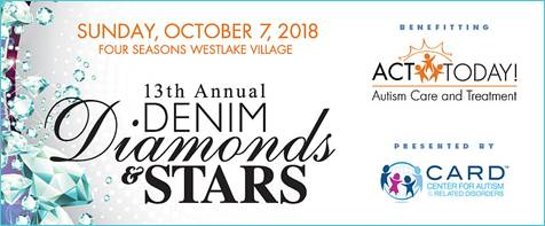 Presenters include actors Joe Mantegna and Gary Cole.
The event is Sunday, October 7 at the Four Seasons Westlake Village (2 Dole Dr.). Festivities include red-carpet arrivals, cocktail reception, silent and live auctions, live entertainment, gourmet dinner catered by Four Seasons award-winning chefs, celebrity presenters and special tributes to 2018 honorees. Honorees are Richard Schiff, Emmy-winning actor/producer/director and currently in "The Good Doctor," Joanne Lara, executive director of Autism Works Now! and Rose van Wier Hein, founder/CEO of Golden Heart Ranch. Emceeing the event is Nick Belardo.
Since it began in 2005, ACT Today! Has helped more than 1,400 families and distributed more than $1.65 million in grants. Presenting sponsor is Center for Autism & Related Disorders (CARD). For more information and to purchase tickets, go to www.denimanddiamondsforautism.net.