President Jimmy Carter and former First Lady Rosalynn Carter have donned their hardhats and lifted their hammers for their 35th work project with Habitat for Humanity.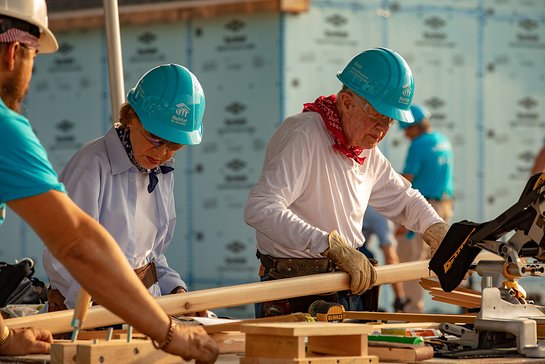 Building alongside volunteers and future homeowners, the Carters are helping to build 22 new, affordable homes this week in what will become an all-Habitat neighborhood in Mishawaka. With additional construction projects throughout the year, a total of 41 homes will be built, renovated or repaired in Mishawaka and South Bend as part of the 2018 Carter Work Project.
"The 35th Jimmy & Rosalynn Carter Work Project is an incredible milestone for Habitat for Humanity, as we reflect on the decades of service that President and Mrs. Carter have provided to our nation and the world," said Jonathan Reckford, CEO of Habitat For Humanity International. "It's also a landmark moment for these 41 families in Indiana, who after building alongside the Carters and our enthusiastic volunteers, will move into homes that give them the strength, stability and self-reliance they need to build a strong future."
For the 11th year, country music stars Garth Brooks and Trisha Yearwood are volunteering their time during Carter Work Project. They first volunteered together with Habitat in 2007 in New Orleans to help build post-Katrina Habitat homes on the Gulf Coast, and since then, have lent their names and support to numerous Habitat events and projects. Along with the Carters, Brooks and Yearwood are recognized as Habitat Humanitarians.
Country music singer and songwriter Eric Paslay, along with his wife Natalie, are also lending their hands. The Paslays volunteered during the 2017 Carter Work Project in Edmonton and have been supporters for Habitat's Home is the Key cause campaign.
Habitat for Humanity of St. Joseph County, which hosts the 2018 project, has a long history of creating opportunities for new and current homeowners to build a safe and decent place to call home. Since 1987, Habitat of St. Joseph County has helped more than 400 families build strength, stability and self-reliance through shelter. The organization mobilizes volunteers and community partners to build affordable housing and promote homeownership.
Since 1984, President and Mrs. Carter have traveled around the world with Habitat to build and improve homes. Their time and efforts help to raise awareness of the critical need for affordable homeownership around the world. Over the first 34 work projects, President and Mrs. Carter have worked alongside more than 100,000 volunteers in 14 countries to build, renovate and repair 4,290 homes.
The 35th Jimmy & Rosalynn Carter Work Project is generously supported by more than 30 sponsors. Habitat would like to particularly thank the project's four Platinum Sponsors: the City of Mishawaka, the KeyBank Foundation, the Vera Z. Dwyer Charitable Trust and the Roger I. and Ruth B. MacFarlane Foundation. Other sponsors include: AEP, Bank of America, Borkholder Buildings & Supply LLC, Carrier, City of South Bend, Community Foundation of St Joseph County, Community Wide Federal Credit Union, Federal Home Loan Bank, First Source Bank, Frank Darnell, GAF, Gurley Leep Automotive Group, H.O.M.E., I.B.E.W., IHCDA, Lowe's Corporation, Inc., Nissan, South Bend Mishawaka Association of Realtors, Stanley Black & Decker, The Dow Chemical Company, Tire Rack, U.S. Bank, Wells Fargo and Whirlpool.