RIDE Foundation (Robyn & Italo Dance Events), formed by Pro-Am ballroom dance partners, Robyn Shreiber and Italo Elgueta, held its second annual event gala, DANCE FOR FREEDOM, on September 29 at the Broad Stage in Santa Monica.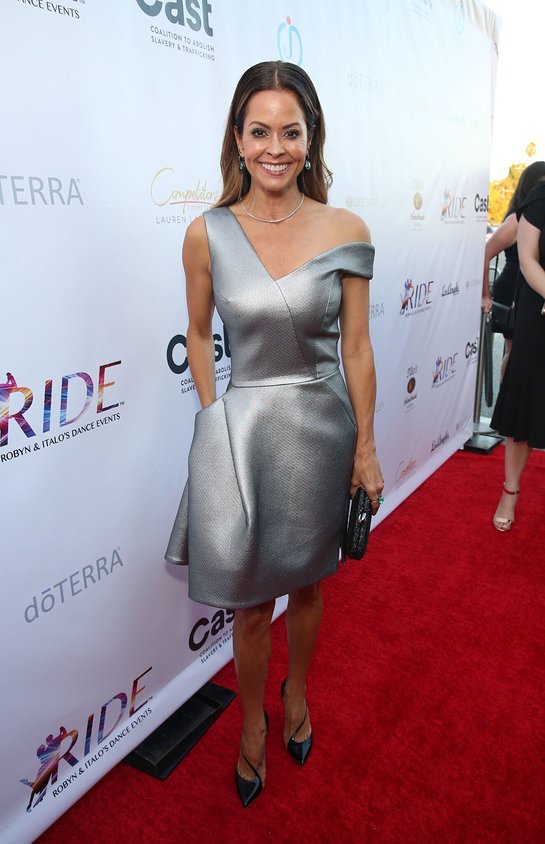 Proceeds from the event benefit two of Los Angeles' leading organizations who are dedicated to fighting human trafficking – CAST (Coalition to Abolish Slavery and Trafficking), and Journey Out. RIDE was established in 2016 to create one-of-a-kind dance events for difference-making charities, encompassing humane and ecological causes and featuring the talents of compassionate stars of the dance world. Dance For Freedom was emceed by Brooke Burke and produced by Tony Award-winning producer Scott Mauro.
"The idea of using the language of dance to help vital and meaningful organizations tell their story is thrilling. Survival. Freedom. Every step we take is orchestrated so they can dance free for the rest of their days," said Italo Elgueta, in welcoming the 400 guests. "We are so very pleased to honor Dr. Stephany Powell of Journey Out and Kay Buck of CAST. We are honored to shine a spotlight on their transformational work," added Robyn Shreiber in presenting Dr. Powell and Ms. Buck with an official recognition from Los Angeles County Supervisor Mark Ridley Thomas and State Assembly member Sydney Kamlager-Dove.
"I want to thank Robyn and Italo for this incredible recognition of dance as a transformative journey to freedom. Freedom to step into one's dreams and aspirations," said CAST CEO Kay Buck who accepted the RIDE Champion Award from actress and anti-human trafficking activist Kate Bosworth. "And I want to thank all of you for believing in these dreams. Together, as a community of dancers –or maybe just spectators- we are giving a gift of healing that grows into a voice that is stronger than words. With us, you are empowering survivors of human trafficking to change their lives and achieve their dreams."
"I encourage you to use your passion as an incredible force to fight slavery," said Journey Out Executive Director Dr. Stephany Powell. "If you're an artist, we need you. Dancers, we need you. Doctors, teachers, bankers, we need you. We need all of you regardless of your profession to fight against slavery it is not a battle we can win alone. Those who work for CAST and Journey Out are in the battle and will continue to need your help." Dr. Powell accepted her award from Dancing with the Stars' Cheryl Burke.
The event also honored Carrie Ann Inaba with the inaugural Artistic Integrity Award, presented by actress Constance Marie. The RIDE Artistic Integrity Award celebrates members of the entertainment industry for their outstanding professional accomplishments in dance and choreography, and for their heartfelt humanity that has made a difference for a multitude of worthy causes. Inaba, a veteran choreographer most recognized as a judge on ABC's Emmy Award-winning "Dancing with the Stars," as well as for her work on such popular series as "American Idol" and "So You Think You Can Dance," is a spokesperson and advocate for many causes, including Drea's Dream, a national program that raises funds for dance therapy for pediatric cancer patients, as well as The Animal Project Foundation and Best Friends Animal Shelter, for which she serves as a celebrity ambassador.
The Evening included a spectacular ballroom dance show headlined by Louis Van Amstel and Anna Trebunskaya, as well as performances by Dancing with the Stars: Juniors' Sage Rosen, and stars from the ballroom dance world including Max Sinitsa and Tatiana Seliverstova, and Oksana Platero. Guests in attendance included American Housewife's Julia Butters, Dancing with the Stars' Keo Motsepe, and Dancing with the Stars: Juniors' Kami Couch and Jake Monreal.
Dance for Freedom sponsors include Tito's Handmade Vodka, LeNique exclusive designer dancewear, and doTERRA Wellness Advocates. Los Angeles magazine was Dance for Freedom's media partner.
In 2017, RIDE held its inaugural gala event, Dance for Africa. The star-studded event raised funds for the African Wildlife Foundation, whose mission is to ensure that wildlife and wild lands thrive in a modern Africa.