Leading philanthropists have set up a $105 million fund to help end a disease that has plagued humanity since antiquity.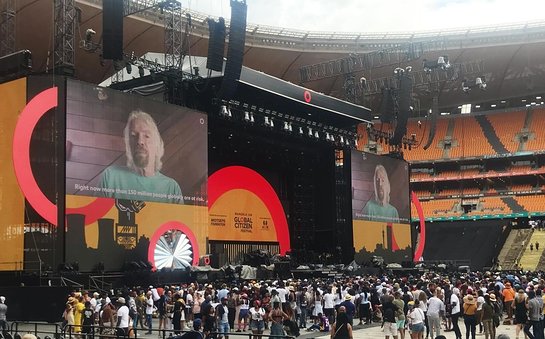 The blinding eye disease trachoma is depicted in the hieroglyphs on ancient Nubian tombs yet it is now on the verge of being eliminated as a public health problem across the world.
Massive progress has been made by governments, donors and international organisations but more support is needed – so a new fund has been set up to help take elimination over the finish line. This latest step was announced by Richard Branson, via recorded video, at the star-studded Global Citizen concert in Johannesburg on Sunday (2 December), and on stage by Precious Mukelabai, a Zambian volunteer who distributes medication to protect people against trachoma.
They represented funders from The Accelerate Trachoma Elimination Programme – led by the charity Sightsavers and including the Bill and Melinda Gates Foundation, Children's Investment Fund Foundation (CIFF), The ELMA Foundation UK, and Virgin Unite. It builds on an announcement made by the UK government in April 2018 to boost elimination efforts through the Commonwealth 2018-2020 Fund.
Dr Caroline Harper, Chief Executive of Sightsavers, said: "It is now within our grasp to be part of history and stop trachoma in its tracks.
"This persistent disease blights the world's poorest communities and traps people into lives of intense pain. It can turn eyelashes inwards so that with every blink they scrape against the ball of the eye, slowly turning people blind. Yet it is treatable and preventable.
"Some of the most trusted names in modern philanthropy are now coming together to accelerate elimination efforts."
The funding will support at least ten African countries eliminate trachoma as a public health risk and speed up progress in several others, where the burden of the disease is highest, by 2023.
Givemore Mafukidze, a health worker from Zimbabwe, said eliminating trachoma would make a real difference to the people he treats: "It makes me very happy to see a child with trachoma being treated because I know the impact it will have on the child's life, wellbeing and welfare. I will be certain that this child is likely to have a better future."
The Global Citizen Festival: Mandela 100 featured performances from Beyonce, Jay Z, and Ed Sheeran and celebrated the legacy of Nelson Mandela. A key theme of the concert was improving health for all.