Actor Chrissy Metz (This Is Us) is the newest reader for the SAG-AFTRA Foundation's Emmy nominated children's literacy program Storyline Online where she reads the classic fairytale The Elves and the Shoemaker retold from the Brothers Grimm and illustrated by Jim LaMarche, and published by Chronicle Books.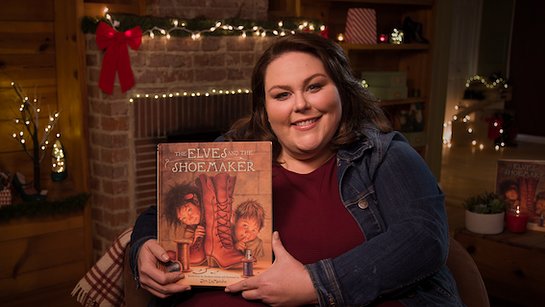 Metz joins a growing cast of Storyline Online readers including Viola Davis, Chris Pine, Allison Janney, Kristen Bell, Sarah Silverman, Tony Hale, Rita Moreno and many more who bring award-winning children's books to life with their engaging storytelling alongside creatively produced original illustrations.
"I used to teach preschool. I know how powerful stories are for children. I miss sitting on the floor in a circle with 20 kids, sharing a story together. It creates such a special bond," says Chrissy Metz. "When I first saw Storyline Online and found out it was a free children's literacy program created by the SAG-AFTRA Foundation, I reached out immediately and volunteered to read. It's amazing to me that not just 20 children will watch and listen to me read them a story, but millions of kids all over the world will get that experience though Storyline Online."
Metz ends her five-minute read aloud of The Elves and the Shoemaker by speaking directly to her young viewers about why she chose the book, "I love this book because think it's really important that we give and we receive…. And I think that it's really important to give with your whole heart."
"Chrissy is not only an incredibly talented actor and performer, but as a former preschool teacher, she understands first-hand the importance of reading aloud to children and the impact Storyline Online can have in the classroom," said Cyd Wilson, Executive Director of the SAG-AFTRA Foundation.
A signature outreach program of the non-profit SAG-AFTRA Foundation, Storyline Online streams videos at no cost to children, parents, and educators worldwide, and receives over 8 million views every month. In addition, Storyline Online is endorsed by the American Federation of Teachers, which represents 1.7 million teachers and education professionals.
As with all Storyline Online videos, The Elves and the Shoemaker comes with a complimentary supplemental activity guide aligned with Common Core Standards that strengthens verbal, written and comprehension skills. Aimed at 2nd-3rd grade students, these activities encourage children to engage in critical thinking activities and ponder the themes of the book including kindness, giving and the holiday spirit.