Here's your chance to join Julia Roberts for lunch and score a shopping spree on Rodeo Drive… and all you have to do is donate to charity.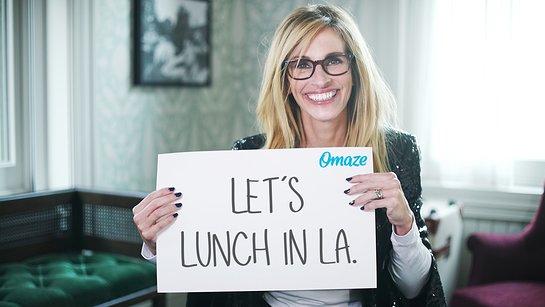 omaze.com is giving you this unique opportunity, and all you have to do is donate to GLSEN.
You and a friend will be whisked away to Los Angeles to join Julia at one of her favorite spots for a meal you'll never forget. You'll enjoy incredible food, sparkling conversation and take some awesome selfies to remember it all by (be sure to flash your biggest megawatt smile!). After that, Julia will send you on your way to Beverly Hills' iconic Rodeo Drive to enjoy a $2,500 shopping spree at some of the most luxurious stores in the world.
GLSEN works to create safe and inclusive schools for everyone. They envision a world in which every child learns to respect and accept all people — regardless of sexual orientation, gender identity or gender expression. Each year, GLSEN programs and resources reach millions of students and educators in K–12 schools across the United States, but their movement to ensure equality and respect for all can be felt internationally and at all levels of education. And thanks to you, GLSEN can continue to work to make schools a positive and affirming environment for every student.
This opportunity ends tomorrow, so head over to omaze.com now.