Actor, comedian and TV host Joel McHale is stepping up to host the SAG-AFTRA Foundation's 10th Annual L.A. Golf Classic on Monday, June 10 at a private golf club in Burbank, CA.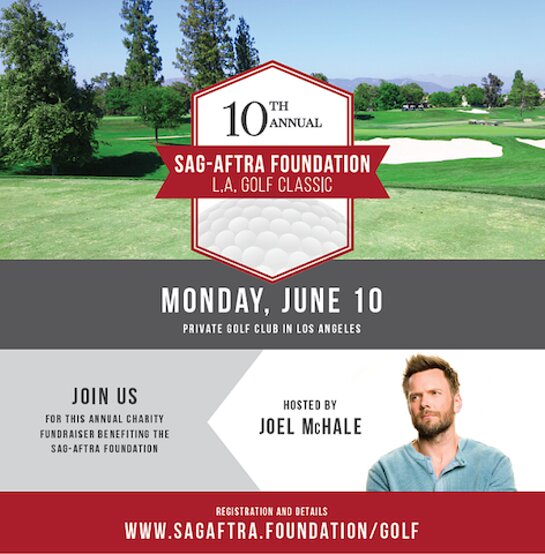 The annual charity tournament benefits the Foundation's Catastrophic Health Fund and Emergency Assistance Program for SAG-AFTRA performing artists facing life-threatening illness and severe economic hardship. McHale stars in the upcoming Stargirl and Psych: The Movie 2. He is currently touring the country with his stand-up act, and will host the revival game show Card Sharks, slated to air this summer on the ABC Television Network.
"I, Joel McHale, am thrilled to be hosting the SAG-AFTRA Foundation Golf Tournament. I'm honored to be part of a foundation that takes true care of my fellow actors and performers. This foundation helps those who are sick and are in deep economic need. I can't think of a better way to help them than to embarrass myself on a golf course. My game has really gone to crap. Thanks for having me SAG-AFTRA Foundation!" exclaims McHale.
"From hosting 12 seasons of E!'s The Soup and the White House Correspondent's Dinner, to hosting his own show on Netflix and the new Card Sharks, we're honored to have the ultimate host, Joel McHale, as the host our 10th Annual L.A. Golf Classic," says SAG-AFTRA Foundation President JoBeth Williams. "We're so proud to be celebrating this milestone anniversary with Joel, and all of the actors and sponsors, who will help raise significant funds for our vital assistance programs for artists. It truly has been a community effort to build the L.A. Golf Classic charity tournament over the last nine years, and this year will be the best one yet."
Find out more here.
Sponsors to date include Johnny Carson Foundation, Express Scripts, Anthem Blue Cross, Anthem Group Retiree Solutions, SAG-AFTRA, AMC, Backstage, The Honda Foundation, Jim Beam, Cape Line, Peroni, Boxing Cat and Los Angeles magazine. For additional sponsorship opportunities and registration information, contact Kevin Connell at kconnell@sagaftra.foundation.
Since 1985, the SAG-AFTRA Foundation has granted more than $19.8 million in financial and medical assistance including $8.3 million in scholarships to SAG-AFTRA artists and their dependents. In addition, the Foundation has offered 8,350 free educational workshops, panels and screenings to performing artists nationwide.