On Thursday, October 17, the International Myeloma Foundation (IMF), the first and largest myeloma-specific foundation in the world, presented its 13th Annual Comedy Celebration benefiting the Peter Boyle Research Fund and supporting the Black Swan Research Initiative (BSRI) at The Beverly Hilton in Beverly Hills, CA.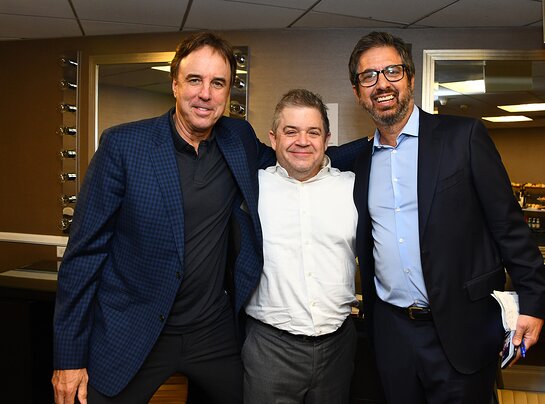 Actor and comedian Ray Romano (The Irishman, Everybody Loves Raymond) returned to host an unforgettable evening of laughs featuring some of the biggest names in comedy to raise money for research to find a cure for multiple myeloma, cancer of the bone marrow plasma cells, and one of the fastest growing blood cancers in the world. Joining Romano on-stage was an all-star lineup of comics including Adam Carolla (The Adam Carolla Show, The Man Show), Demetri Martin (Demetri Martin: The Overthinker, We Bare Bears), Kevin Nealon (Man with a Plan, Hiking With Kevin), Patton Oswalt (Veronica Mars, A.P. Bio), Caroline Rhea (Sydney to the Max, Funny You Should Ask) and Amanda Seales (Insecure).
Additional attendees included Lesley Nicol (Downton Abbey), Alex Meneses (The Wall of Mexico, Everybody Loves Raymond), Andy Ostroff (Comedian), Howard Hesseman (Head of the Class, WKRP in Cincinnati), Jaicy Elliot (Grey's Anatomy), Jen Curran (Comedian / Myeloma Patient), Lisa Linke (Bless This Mess), Rebecca Zamolo (Actress/Influencer), Dr. Brian Durie (IMF Chairman of the Board), Susie Novis Durie (IMF Founder & President) and more.
Back by popular demand, the IMF presented an exclusive live stream of the red carpet arrivals on the International Myeloma Foundation's Facebook page. Hosted by TV personality Alie Ward, the live stream featured red carpet interviews with attending celebrities and myeloma experts, and a preview of the Charitybuzz items now available for bidding. Among the featured items are signed sports memorabilia from the LA Kings and LA Rams, VIP tickets to tapings of Saturday Night Live and Patricia Heaton's Second Act, and more. The items are available for bidding at CharityBuzz.com/IMF now through October 29. A replay of the entire live stream can be viewed on Facebook.com/myeloma.
The live stream also featured IMF Board Member and the Northwest Arkansas Multiple Myeloma Support Group Leader Yelak Biru, a myeloma survivor who was first diagnosed in 1995. Biru introduced viewers to the IMF "Wall of Resilience: A Visual Exploration of Personal Resilience," a traveling exhibit of images captured by myeloma patients on what it means to be "resilient." These powerful images highlight a broad spectrum of people, places, and experiences that help those living with the disease keep going in the face of adversity.
Proceeds from event benefit the Peter Boyle Research Fund, named for the beloved actor who died in 2006 after a four-year battle with myeloma. Since the first event in 2007, the annual IMF Comedy Celebration has featured over 50 celebrity comedians and musical performers, and raised more than $7 million.
For the seventh year, the event also supported the International Myeloma Foundation's signature Black Swan Research Initiative (BSRI), a groundbreaking and collaborative global project aimed at developing the first definitive cure for myeloma. Led by a multinational consortium of leading myeloma experts, BSRI aims to treat myeloma early and aggressively through a broad range of simultaneous initiatives. One promising endeavor are the "Cure" trials, designed to achieve a dramatic benefit for patients with early disease. For additional information on BSRI, visit bsri.myeloma.org.
The International Myeloma Foundation 13th Annual Comedy Celebration is presented by Celgene. For more information, please visit comedy.myeloma.org or to donate text COMEDY to 41444 and click the link to give.