Last week, PEN America hosted their 2019 LitFest Gala in Los Angeles, a celebration of free expression and the literary arts that honored some of the brightest names in film, television, and literature.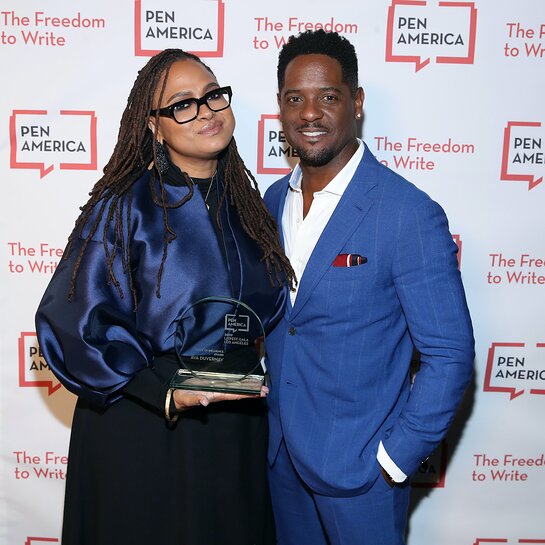 Filmmaker Ava DuVernay received the Voice of Influence Award, songwriter Diane Warren received the Artistic Expression Award, "A Beautiful Day in the Neighborhood" writers Micah Fitzerman-Blue and Noah Harpster received the Award for Screenplay Excellence, the writing and creative team behind Netflix's series "Unbelievable" – Showrunner/Writer/Director/Executive Producer Susannah Grant, Writer/Executive Producer Michael Chabon, Writer/Executive Producer Ayelet Waldman, and Executive Producer Sarah Timberman received the Award for Television Excellence, attorney Theodore J. Boutrous, Jr. received the PEN America Distinguished Leadership Award, and Julie Brown received the Dan Eldon Courage in Journalism Award. Presenters and Speakers included LeVar Burton, Kathy Griffin, Chrissy Metz, Blair Underwood, Susan Kelechi Watson, T. Christian Miller & Ken Armstrong, and more!
The evening was infused with powerful moments, both moving and light-hearted, but all highlighting the importance of the core mission of PEN America. Julie Brown received a standing ovation after speaking passionately about her efforts to share the stories of the brave women who came forth with their stories of sexual assault. Kathy Griffin and Ted Boutrous talked about taking on the current government and fighting with everything they have to support the rights of journalists and media organizations. Ava DuVernay accepted her award with a powerful speech about being at the intersection of arts and activism, ending with an apropos quote from writer Audre Lorde. Diane Warren received a musical tribute from Chrissy Metz, who delivered an inspiring performance of their hit song, "I'm Standing With You." Literary icon LeVar Burton paid homage to longtime PEN America member Toni Morrison with a heartfelt speech conveying the unparalelled contribution that Morrison made to the arts community.
Now in its 29th year, PEN America's LitFest Gala is a celebration of free expression and the literary arts. Featuring impassioned tributes, conversation, and levity, the event brings together an esteemed audience of authors, screenwriters, producers, showrunners, executives, philanthropists, actors, and devotees of the written word who share a commitment to defending creative freedom and expression in Los Angeles and around the world. Money raised from the Gala fuels advocacy for writers, journalists, and artists threatened or imprisoned worldwide; landmark research addressing critical free speech issues; and the advancement of literary excellence and cross-cultural exchanges, including the World Voices Festival of International Literature, PEN America's Literary Awards, and fellowship and grants programs. Recently honored luminaries and participants include Ai Weiwei, Marti Noxon & Gillian Flynn, Barry Jenkins, Roxane Gay, Isabel Allende, Jose Antonio Vargas, Margaret Atwood, Janet Mock, Norman Lear, Guillermo del Toro, Amber Tamblyn, Aisha Tyler, Amy Poehler, and Cecile Richards.
PEN America stands at the intersection of literature and human rights to protect open expression in the United States and worldwide. Its mission is to unite writers and their allies to celebrate creative expression and defend the liberties that make it possible.