The Humane Society of the United States hosted it's 2019 'To the Rescue!' New York Gala, which raised over 2 million dollars to benefit the organization's animal rescue efforts.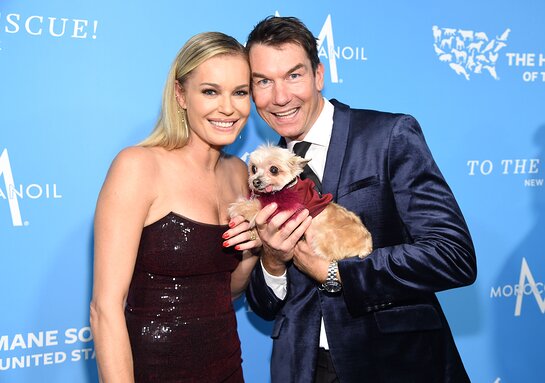 Hosted by actor Jerry O'Connell and actress Rebecca Romijn, the event honored consumer goods company Unilever; MUTTS© cartoonist and children's book author Patrick McDonnell; and the Alex & Elisabeth Lewyt Charitable Trust.
The evening featured a special performance by Gavin DeGraw who performed Something Worth Saving, Not Over You and I Don't Wanna Be. Additional guests included Georgina Bloomberg, Chloe Coscarelli, Liz Dee, Leanne Hilgart, Stella Keitel, Allie Rizzo, Ariana Rockefeller, Linda B. Rosenthal, Scott Sartiano, Adam Slutsky, Vanessa Verduga, Danny Woodburn and Kitty Block, President and CEO of the HSUS and more.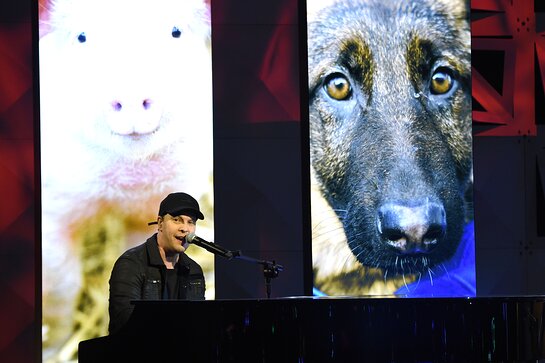 Responsible for saving and rehabilitating thousands of animals each year, the Humane Society of the United States and its global arm Humane Society International travel across the country and the globe to help animals in need from cruelty and neglect and at risk from natural disasters.
"Our 10th anniversary NY Gala was a success thanks to our incredible hosts Jerry O'Connell and Rebecca Romijn, and a stellar performance by Gavin DeGraw. We were thrilled to honor The Alex and Elisabeth Lewyt Charitable Trust, Unilever and the one and only Patrick McDonnell for their continued devotion to animal protection. To be in a room with so many supporters who make the world a greater place for animals is truly inspiring," said Kitty Block, President and CEO of the HSUS.
Unilever was honored with the Corporate Consciousness Award. McDonnell received the Voice for the Animals Awards and the Alex & Elisabeth Lewyt Charitable Trust were recognized with the Humane Champion Awards.
Guests enjoyed a plant-based dinner crafted by Eddie Garza.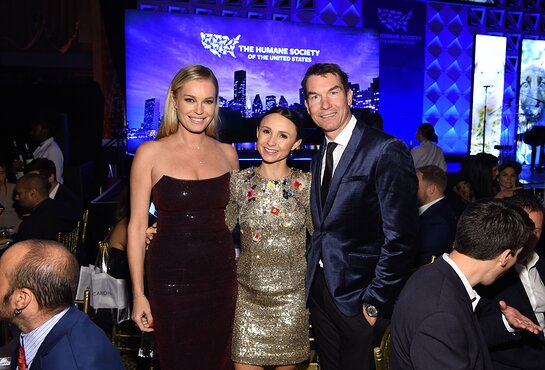 Georgina Bloomberg served as the Event Chair. The 2019 Leadership Committee included Ian Bass, Wendy and Howard Berk, Yolanda Berkowitz, Gale Epstein, Jennifer Faga, Wayne S. Flick, Linda Goddard, Kimberly Handler, Gretchen Jelinek, Cathy Kangas, Jennifer Laue, Patrick McDonnell and Karen O'Connell, Judy Ney, Lida Orzeck, Sharon Patrick, Terry Rakolta, Joan Sabatino, Debra Shore and Marisol Thomas.
The gala was also supported by Humane Generation New York, which cultivates mission-motivated, well-networked next-generation leaders, forging a pathway to personal philanthropy and deeper engagement with the HSUS. The Humane Generation New York Committee includes Georgina Bloomberg (Chair), Lauren Ackerman, Liz Dee, Molly Fahner Calhoun, Liz Friedland, Kelly Grace, Stella Keitel, Dylan Lauren, Leanne Mai-ly Hilgart, Steve Read, Stephanie Riggio Bulger, Breanna Schultz, Hilary Sloan, Courtney Stroum Meagher and Katie Sturino.
This year's gala was sponsored by Moroccanoil.
Founded in 1954, the Humane Society of the United States and its affiliates around the globe fight the big fights to end suffering for all animals. Together with millions of supporters, the HSUS takes on puppy mills, factory farms, trophy hunts, animal testing and other cruel industries, and together with its affiliates, rescues and provides direct care for over 100,000 animals every year. The HSUS works on reforming corporate policy, improving and enforcing laws and elevating public awareness on animal issues. More at humanesociety.org.