Actor and activist Mark Ruffalo has spoken to Congress about toxic "forever chemicals" that are contaminating the water, food and personal care products of people across the United States.
He said on Facebook:
For me, Dark Waters is a chance to combine two things I'm most passionate about: storytelling and activism.
It was an honor to stand before lawmakers today with real-life heroes Rob Bilott, Bucky Bailey, Mark Favors, the Environmental Working Group (EWG), and NRDC to urge them to take immediate action to regulate #PFAs. Our leaders have the power to do something about forever chemicals, they just need to act. And they need to act fast. You can join me today in demanding action against #PFAs at fightforeverchemicals.com
Together, we can ensure communities across the country receive the safety they deserve.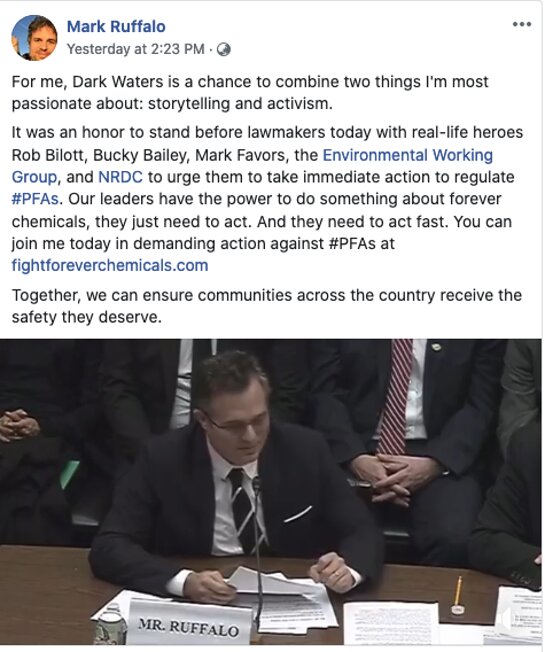 During his speech to congress he stressed the importance of cleaning up communities across the country, pointing out that more than 100 million Americans are likely drinking water contaminated with PFAS, and saying, "These chemicals don't respect political boundaries."
Ruffalo focuses on this issue in the new feature film 'Dark Waters', which he produced and stars in. The film follows environmental lawyer Rob Bilott, who took on DuPont after uncovering evidence that the company knowingly dumped toxic fluorinated chemicals, commonly called PFAS, into drinking water in and around Parkersburg, W.Va.
"In America, it falls to us – ordinary people – to prove that chemicals are toxic before the chemical is regulated by our government," Ruffalo testified to the lawmakers. "That's simply backwards. It's the companies that make billions of dollars producing these chemicals who should be required to prove their products are safe."
"Exposure to very low doses of some PFAS chemicals is associated with serious health risks, including cancer, reproductive harm, developmental harm, damage to the immune system, hormone disruption, and liver and kidney damage," EWG Senior Vice President for Government Affairs Scott Faber told the committee. "To reduce the risks posed by PFAS contamination, Congress should address ongoing sources of PFAS contamination, document the sources and scope of existing PFAS contamination, and dramatically accelerate efforts to clean up existing PFAS contamination."
EWG co-founder and President Ken Cook, who, beginning in 2002, helped Bilott expose DuPont's decades-long coverup of the health hazards of the PFAS family of chemicals, applauded Ruffalo and Bilott for their tireless advocacy.
"Speaking truth to power is the hallmark for both Mark and Rob, and their campaign to protect the public from toxic chemicals is an indelible reminder of their staunch commitment to the health and well-being of Americans," said Cook. "Standing up against powerful interests on behalf of average Americans is in their collective DNA, and we should all be grateful."
EWG, along with the Social Science Health and Environmental Health Research Institute, tracks and maps PFAS contamination reported by federal and state authorities. To date, PFAS is known to contaminate public drinking water supplies serving at least 19 million people in 49 states.
The "Fight Forever Chemicals" campaign is a collaboration between Participant, EWG, the Natural Resources Defense Council and other environmental organizations. The campaign, driven by Participant, will launch a tour over the coming months that will include screenings of "Dark Waters" in a number of impacted communities in Colorado, Michigan, North Carolina and Vermont.
In 2017, DuPont and its spinoff company Chemours agreed to pay $671 million to settle a landmark lawsuit Bilott brought on behalf of 70,000 people in the mid-Ohio River Valley. The New York Times called Bilott "DuPont's worst nightmare," and his crusade earned him the Right Livelihood Award, widely known as the alternative Nobel Prize.
Bilott's new book, "Exposure: Poisoned Water, a Conspiracy of Silence, and One Lawyer's Twenty-Year Battle Against DuPont," is a riveting first-person account of how he revealed the company's dumping of the chemicals and the decades-long coverup of the health hazards of PFAS.
###
The Environmental Working Group is a non-profit, non-partisan organization that empowers people to live healthier lives in a healthier environment. Through research, advocacy and unique education tools, EWG drives consumer choice and civic action.
Source: Environmental Working Group